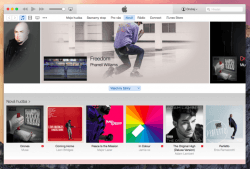 Apple released it's music streaming service today with Apple Music. The new iTunes version, namely iTunes 12.2 is released to work with the new music streaming service. It's available for both Microsoft Windows and Apple Mac computers. All you need to do is follow the guides below for your OS to get that done.
Apple is no stranger to releasing several updates to its services on the same day. The Cupertino company released iOS 8.4 earlier today, the Apple Music service and now the iTunes 12.2 so all services can be updated to work well with one another. Without the latest version of iTunes 12.2, you cannot launch the new Apple music streaming service on the desktop. Here's what you must do to have it working:
HOW TO DOWNLOAD AND INSTALL ITUNES 12.2 WITH APPLE MUSIC AND BEATS 1 SUPPORT FOR WINDOWS AND MAC
Since most people run a Windows OS, let's go with that first:
Launch the software update utility
The utility will now search for the latest iTunes update we intended on installing.
Choose to install the update when it appears on the screen. It may require a system reboot to get it working.
Things are slightly different for those using Mac:
Launch the Apple Mac App Store
Look for the "updates" button on top of the main screen.
Click the "updates" button and you'll see the installment waiting inside.
Follow the prompts to have the latest iTunes download complete and ready to use.
Related Posts