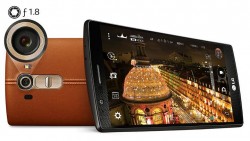 The LG G4 is a remarkable handset in its own right, running Android 5.1 Lollipop out of the box. Those interested in hacking and getting to know their devices on another level will wish to explore the world of rooting. While rooting alone is great with plenty of additional applications available to install, it doesn't come close to what's available with custom ROMs. If you have a passion for transforming the look of your device, or you just want to check out the latest Android software updates that are not available for you yet, you'll want a custom ROM for that.
Before we can think about flashing a custom ROM, first you must install a custom recovery image. There are a few favorite custom recoveries out there, including Philz Touch, CWM and TWRP. They aren't all available for each device, though. G4 owners can install TWRP recovery easily following the guide below.
REQUIREMENTS
You must have the G4 bootloader unlocked.
HOW TO INSTALL TWRP RECOVERY ON LG G4
Download the TWRP file here and extract the package on the Windows computer.
Transfer the TWRP file to the same folder where you have fastboot.
Open the folder that has the fastboot and TWRP and right-click the mouse while holding the Shift key on an empty white space.
Choose to open the command prompt window from the menu that pops up.
Type the command:  "adb reboot bootloader".
Press enter.
Type the next command: "fastboot flash recovery twrp-2.8.6.0-h815.img".
Press enter.
Lastly, type: "fastboot reboot".
Press enter.
Sweet, you're all set. Now you can think about flashing those custom ROMs you desire. You might also be interested in checking out how to take a NANdroid backup. Before you can do any of that, you must learn how to enter recovery mode on the LG G4.
Related Posts