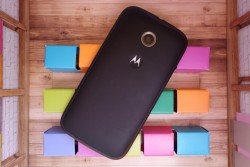 The Motorola Moto G is now available to buy and root access was made available within days. Before you can think about rooting the device, you first must unlock the bootloader so the SuperSU installation is available. Here's how we can take care of that:
REQUIREMENTS
Charge the battery to over 50% so it doesn't run out during the guide.
BEFORE WE BEGIN
Unlock the Developer Options menu by heading to the About Device menu and tapping over the build number seven times.
Enter the Developer Options menu from the Settings and check the box for USB Debugging mode. Now you are able to connect the Moto G to the computer without any worries.
HOW TO UNLOCK THE BOOTLOADER OF THE MOTOROLA MOTO G 2015
Completely power down the device by pressing the Power button and confirming it with the Power off button.
Boot the device into ADB Mode. Hold Volume Down + Power for five seconds and then let go of the Power key only. Wait with Volume Down pressed until the ADB mode pops up on the display.
Connect the Moto G to the Windows computer.
Download the minimal ADB and Fastboot from here and install the program on the computer.
Launch the minimal ADB and fastboot tool.
You should see the command prompt utility on the display.
Type the first command: "fastboot devices".
Press Enter.
Type the second command: "fastboot oem get_unlock_data".
Press Enter.
You will see a long string of code on the display.
Right-click the mouse and select "Mark" to copy that code. You want to copy the strong code only which is to the right of where it says <bootloader>.
Left-click the mouse and select "Copy" to copy that code.
Navigate to Start > Notepad and paste the code in Notepad.
Notepad will lay it out like it was in the command window with about 4 or 5 separate lines.
Go to the beginning of line 2 and press backspace to join it with the first line. Do that with all lines so the code is joined entirely.
Copy that unlock code that's now joined without any gaps by highlighting the code and selecting "Copy".
Open Motorola's official webpage here and click the "Next" button.
Continue to sign in to your Motorola account, or create one if you don't have it already.
Paste the code you have in the "Can My Device Be Unlocked" box.
Agree to the terms and conditions and click the "Request Unlock Key".
Congratulations! You should now have the Motorola Moto G 2015 bootloader unlocked. You can learn how to root the Motoola Moto G 2015 now.
Related Posts