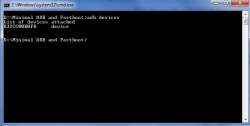 Those of you who are interested in tweaking the Android operating system might already know about ADB and Fastboot. We provide a great many of the posts here on our site using the drivers and setting up ADB with Fastboot on Windows for use with Android. Well, now there's a new tool in town called minimal ADB and Fastboot which is like a watered-down version of the standard version. With the minimal ADB setup, you can install the ADB and fastboot on a Windows PC without installing Android SDK and bloating the PC with other programs you don't need.
Requirements:
You must be running Windows to install the file. The file works for both 32 and 64 bit operating systems. Furthermore, you may use the file on Windows XP, Windows Vista, Windows 7, 8 and 10.
You should check our USB drivers download page and download the correct USB drivers for your device. For example, if you own a Samsung device, download the corresponding Samsung USB drivers on the Windows PC before attempting to install the minimal ADB from the link below.
Features:
The total file size is around 4 MB, so as you can see, it's very light.
Super fast to install thanks to the small file size.
It comes with automatic installations. Just run the setup and it will install the files on your C Drive.
Direct minimal ADB and Fastboot download link:
Download the minimal ADB and Fastboot from here.
Related Posts