With video slideshow software, putting together a multimedia presentation is no longer a tedious chore. Thanks to advanced tools, your project transcends one-dimensional pictures and becomes a dynamic movie pumped up with cool 3D effects. The good news is you can use the same app to indulge your photography hobby as well as promote your products & services in a 3D way.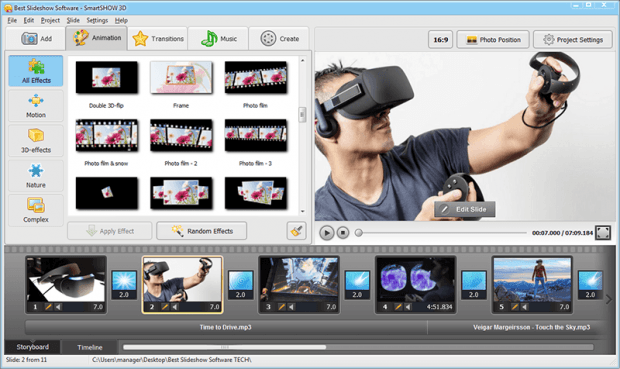 SmartSHOW 3D is likely the best video slideshow software as it has plenty of editing & creative tools and offers vast opportunities without the intimidation that comes with mastering a new technology. The latest version of this smart slideshow maker is available at http://smartshow-software.com and is accompanied by numerous tutorials to help new users get the hang of its main features. Inside the program, you have the freedom to mix up photos and video clips, play with styles and effects while creating your slideshow video and then choose among a number of output options to send your creation out into the world.
Put the puzzle together: mixing photos, video clips & music
One of the greatest things about modern video slideshow software is how it erases the boundaries between static images and dynamic video clips with a simple click of a mouse. SmartSHOW 3D slideshow maker has an intuitive interface that is easy to navigate and features a smooth drag-and-drop functionality allowing you to assemble all the multimedia elements on the storyboard like pieces of a puzzle.
Starting with photos, you can then upload video clips and set the right mood to your slideshow project with some melody. The next step to personalize your story and make it truly narrative will be recording voice comments. In order to give your slideshow a proper start or divide different parts of your presentation, use 3D title clips – they add a professional touch to your multimedia project.
Optimize your media files: working magic with editing tools
SmartSHOW 3D stands out among other video slideshow software as it is equipped with a wide range of photo filters. Creative tools for working with images include color hue, old film, vignette, mosaic and many other effects that will free your hands and present the chosen photos in a favorable light.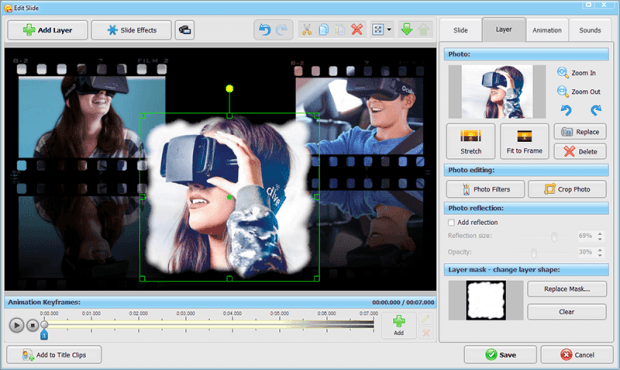 The reflection effect will highlight the main image on the slide and spice up your presentation. Fancy masks of various shapes can be applied to both photos & video clips and used to fine-tune animation, e.g. images or lines of text appearing out of nowhere. Best of all, the built-in video editor allows you to cut video clips onsite without the help of other editing apps and manipulate them with the same ease as usual pictures.
Create three-dimensional vision with transition & animation effects
SmartSHOW 3D offers a generous number of design features that are easy to use and take little time to apply. The program has an extensive library packed with 100+ themed collages & templates, 150+ animation effects and 100+ transitions. This well-organized collection is perfect for making slideshows for special occasions, like someone's birthday party, graduation ceremony or holiday trip. At the same time, these templates are fully customizable and may be used as a basis for users' projects.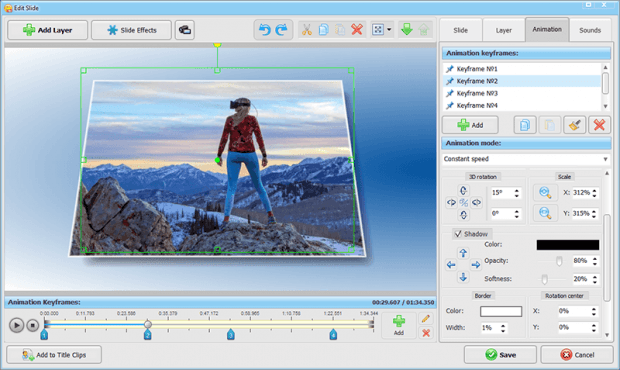 For a whimsical touch, jazz up photos and video clips with fancy animation effects, including zooming in and out, rotating images and making them move across the slide. All it takes is to click on the effect you like and then apply it to the slides that you want to animate. Another way to do it is to use animation keyframes and take all motion stages under your full control. Transition effects will do a great job setting the slideshow pace along with its mood. SmartSHOW 3D has a selection of original transitions such as simulated page turns and rolls, explosion, flash of lightning etc.
Share your slideshows with the world: getting the hang of output options
For those who are on tiptoes with eagerness to display the results of their creative work, SmartSHOW 3D offers multiple output formats to convert a slideshow to standard or HD video (AVI, MP4, MKV, 3GP, etc.) and playback it on your PC or TV. The software also produces mobile-optimized videos for iPad, iPhone and other gadgets. With the help of the integrated DVD burner, you can burn your multimedia presentation to a disc and funk it up with a stylish menu. In order to share a slideshow with a larger audience, create a web-optimized video and post it to any social network.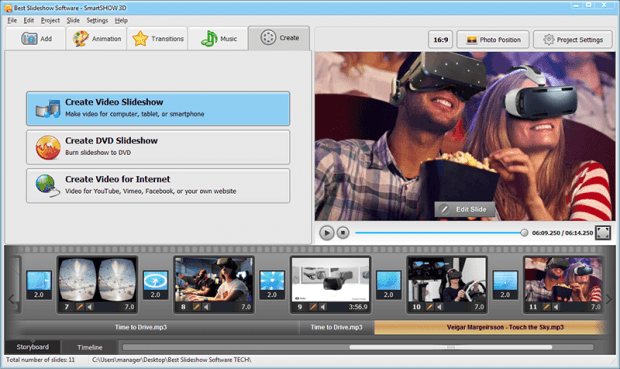 Conclusion
All in all, SmartSHOW 3D can be called the best video slideshow software since it offers an entertaining and convenient way to make grasping multimedia presentations for as little as $39.90. Unlike other slideshow makers, this software is accessible for users of all skill levels. Whether you are a photo & video montage professional or you have only grass-root knowledge of such programs, SmartSHOW 3D allows you to craft visually and musically appealing slideshows that will outlast a fragile pile of photos. Download the free trial version: http://smartshow-software.com/download.php and enjoy the absorbing process of video slideshow creation!
Related Posts