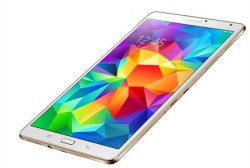 If you would prefer using your Galaxy Tab without any restrictions, you'll need to gain further control of the internal hardware. There's only one way to do that properly: getting root on Samsung Galaxy Tab S 8.4 SM-T700. Once you have completed the guide after the drop, you'll be able to remove the Samsung bloatware that's stopping you from getting the most out of the performance. You should have no worries finding a couple of neat custom ROMs to change the look of the Android software on your tablet too. Here's what you need to do:
REQUIREMENTS
The following guide is only made with the SM-T700 variant of the Galaxy Tab in mind. Don't flash the files we are providing on a different device or else you might brick it.
BEFORE WE BEGIN
You don't need any USB Drivers from Samsung to complete this guide since we are just installing an application and opening it from the app drawer. However, the tool we are using today is called the KingRoot tool. The KingRoot developers do recommend using the desktop version of the same tool if the app doesn't work for you. Should you do that, you might want the USB Drivers then. Grab them from here.
HOW TO ROOT THE SAMSUNG GALAXY TAB S 8.4 SM-T700
Download the KingRoot app from here and install it on your device like you would any other.
Tap the app from the app drawer and open it up so you can use the tool.
Tap over the "Try to Root" button, or wording that's similar depending on your app version.
The KingRoot tool will now ping it's own servers and attempt to find a working rooting method for your device.
Once done, you'll see the progress bar appear on your tablets display, showing you how long is to go before the rooting is complete. Do not touch anything until it reaches 100% and gives you the "success" message.
Now you can unplug from the computer and ahead directly to Google Play where all those funky root-requiring apps are waiting for you to download.
Related Posts