People app in Windows 10 is where you manage all of your contacts in one place. It can show contacts from Outlook account, Google account, and many other supported online services.
You may recall the People app in Windows 8 was difficult to use, especially with mouse and keyboard. Now its replacement in Windows 10 resolves this problem with a more familiar UI for a contact app. Like before, this app is built-in so you don't have to install it from the Store.
How to add contacts to People app
People app links with the built-in Outlook app. That means you need to add your account to Outlook in order to show contacts in People.
Adding a new account to Outlook app is as easy as followings.
In Outlook app, tap the Settings button at the bottom left. Then select Accounts.
You'll see the plus icon "Add account." Hit that and enter your account information.
Once you finish, you can choose to sync mail, calendar, and contacts in the same dialog. It's obvious that you have to sync contacts to make them appear in the People app.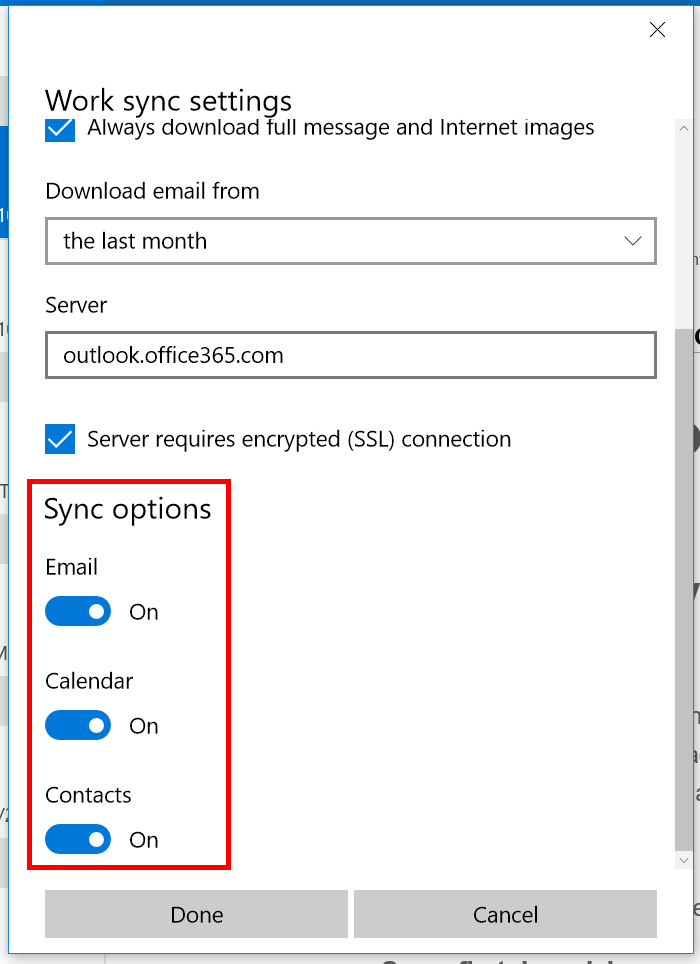 Now open People app and you should see contacts from your new added account. If there aren't any, you may want to click "Showing" under the search bar then place a check before the account you want to see its contacts.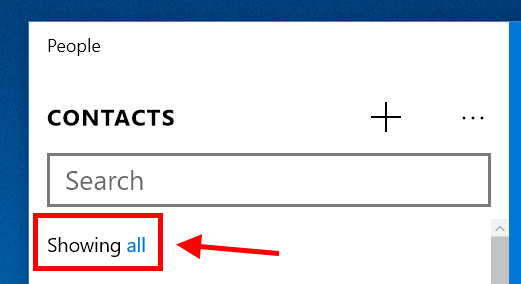 How to link contacts in People
The People app has a very useful feature that helps you pull everything together into one contact. Suppose my best friend is also my colleague at work. I have a contact of his on my personal account with his home address and phone number. There also is another contact on my work account contains his office phone. Using the link feature in People app will help me combine them virtually into a single contact that appears in the app. So whenever I select his name from the contact list, the detail pane will show all information that lies in two contacts on two separate accounts.
Once you have everything in sync, here's how you can link contacts together.
In People app, select the contact you want to link.
In the detail pane on your right, click the link icon at the top right.
Then hit the button "Choose a contact to link." All you need to do next is to select the contact you want to combine.
And you're done.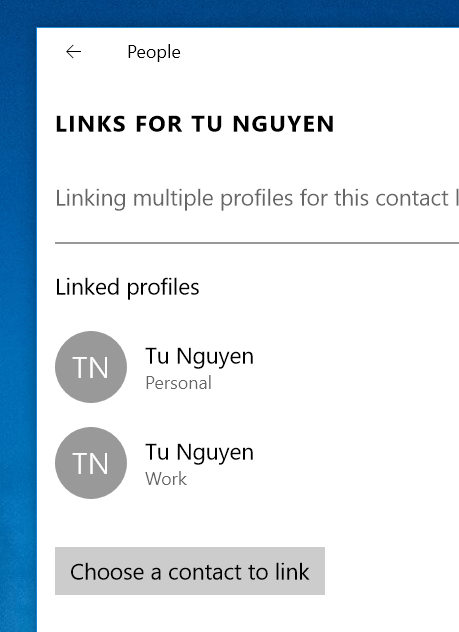 After you successfully link contacts, you will see a small number above the link icon in detail pane. This number indicates how many contacts have been link together for this one person. You can also tap this icon then select a contact to unlink that contact from the other.

Related Posts