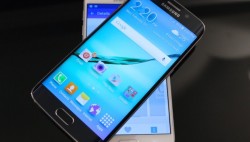 These are the steps to follow if you want to take a screenshot on Samsung Galaxy S6. We all know how common taking a screenshot from a computer is for our daily tasks, the same can be said for many people when using smartphones. You might be watching a ball game, a funny video, looking at a funny picture, or reading a bit of text from social media that you want to quickly share. Sometimes you can find sharing options for content like you can with social media, but there's another way around that: taking a screenshot on Samsung Galaxy S6.
The way in which we take a screenshot can vary between devices, although Samsung devices have always preferred using these two hardware keys we are about to show you below. Sometimes you can have various methods or taking a screenshot and some of those methods will become outdated when software updates. For example, the secondary method that was once available for the Samsung Galaxy S5 is no longer working for S5 owners after the upgraded the operating system to Android 5.0 Lollipop. Software plays a part in features just like unique OEM manufacturers do too.
Here we will show you two main ways you can take a screenshot on Samsung Galaxy S6.
HOW TO TAKE A SCREENSHOT ON SAMSUNG GALAXY S6
Have your S6 phone open with the screen you want to capture a shot of. The options are limitless; it can be an app, video, any website, any browser or UI page.
Next, press and hold the Power + Home keys at the same time.
After a brief moment, you will hear a shutter sound and the screen will flash off and on again. That's the built-in feature to let you know the screenshot is successfully captured.
Screenshots are easy to find, just open the Gallery app and you will see the latest photo you have taken is the screenshot picture.
Those of you without the standard Gallery app can access the Samsung 'My Files' file browser and see the picture there.
If you cannot get the Samsung Galaxy S6 to capture a screenshot using the two key combination that we showed you during the guide, you can check out the Google Play Store. Sign into your google account on the Sammy S6 and navigate to the search field. Now type the keyword 'screenshots' and you should get pinged back with a results page that list some of the best ideas for you to install toward the top of that list. They are not necessary in order from best to worst though, so take a good look at the first few rows before making your choice.
If you want our recommendation, no app will be more efficient to use than the two hardware keys on your device we taught you during the guide. However, if your hands are too small to reach the two button combination due to the larger S6 smartphone size, the apps might be the better option for you.
Related Posts