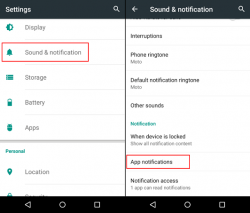 We live in a world today where it seems just about every company wants to send you a notification. Have you ever been woken up by an email from a company that you never heard of before, let alone one that you do know of? Or perhaps you have seen a notification pop up on your smartphone display from an app and you want to know how to get it off your screen so it doesn't happen again. Both cases represent annoying notifications if they are from sources you don't want and when they are coming from sources you don't want they are officially spam.
The first case of emails is an easy fix. Nearly all emails you get will come with an 'unsubscribe' link at the bottom of the email. If you don't see it there, keep looking. It's usually in well-planned out tiny text just large enough so you can see it. Sometimes a spam site doesn't give you an unsubscribe button. In those cases feel free to yell at them, send them abuse, followed by threats to contact the police. You'll soon find no more emails coming from those sources.
The difference between annoying emails and annoying app notifications can be like polar opposites. What I mean by that is an email is generally easy to unsubscribe, but there are cases that can be nearly impossible to stop. App notifications require some thinking and are never really easy, but with a bit of work you can easily stop them all — for good. Here's how to disable notifications from apps in Android so you don't ever have to put up with an annoying notification again.
The following guide works for those of you with later versions of Android like Android Lollipop, as well as those of you running older versions of Android like 4.1 Jelly Bean.
HOW TO DISABLE NOTIFICATIONS FROM APPS IN ANDROID
Android 5.0 Lollipop to 5.1.1 Lollipop and above
If you are running android 5.0 Lollipop or above, navigate to the Settings.
Next tap the 'Sound and Notification' option.
Now tap the 'App Notifications'.
Here should list all of the apps that are available to send you a notification you want to stop.
Tap over the app that is sending you notifications you want to stop.
Toggle the switch over to the 'Block' position to stop receiving notification from that source.
If you are using Android 4.4 KitKat, or lower, your steps to disable notifications from apps in Android are a bit different.
Android 4.1 Jelly Bean through to 4.4.4 KitKat
Navigate to the 'Settings', followed by 'Apps'.
Tap over the app you want to stop a notification from by highlighting that app.
Instead of toggling a switch like Lollipop, just uncheck the box for show notifications. By taking the mark away from the box we are turning it off.
There is no need to click save or look of a way to save the option. Once you navigate your way back out of the Settings and use the UI as normal, the software will remember your preferences.
Related Posts