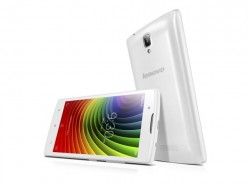 The Lenovo A2010 has been blessed with an official TWRP Recovery made available so you can have the best custom recovery in the world at the moment running on your device. The TWRP Recovery is the pick of the bunch thanks to the ability to use the flash queue — a feature that allows you to set up as many as 10 files to be flashed automatically one after the other. That means no waiting around for your files to finish one at a time before you can flash the next one.
Another feature you get with the TWRP Recovery is the screen timeout option. The screen timeout functionality has been already built-in and will prevent any kind of image burn that might have happened while your files take the time they need to finish the flashing. The image burn is still common today, even with popular and high-quality Super AMOLED displays.
REQUIREMENTS
You must have the Lenovo A2010 to use the custom recovery image file in this guide. Installing the same recovery image on a different device may brick that device. Do not install it on any other device or any other model number until you know it is safe.
BEFORE WE BEGIN
Enable the USB Debugging Mode on your Lenovo A2010 by tapping on the Menu > Settings > Developer Options > USB Debugging Mode.
Unlock the Developer Options if it is a hidden menu on your Lenovo device by tapping on the Menu > Settings > About Device > Model Number 7 times until it says you are now using the device as a developer. That is telling you that the Developer Options menu is now available from the Settings menu.
HOW TO INSTALL TWRP RECOVERY ON LENOVO A2010
Download the TWRP Recovery for the A2010 from here.
Download the MTK VCOM USB driver from here.
Download the Smart Phone Flash Tool from here.
Run the SP Flash Tool and install your custom recovery with the flashing tool. You can watch the video below if you do not know how to flash with the SP Flash Tool. Note that the device must be turned off when connecting to the computer and pressing the 'Download' button from the Flash Tool's user-interface.
In conclusion, you should now have a custom recovery installed on the Lenovo A2010 device. You can use that custom recovery to take full backups with the NANDroid Backup option. Anyone wanting to install a custom ROM or a custom kernel will probably need to root the device before that is possible. Anyone wanting to do that can read our guide for rooting the Lenovo A2010 using the SuperSu by Chainfire and the custom recovery.
Related Posts