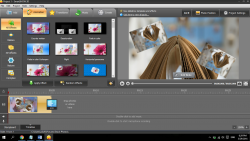 Slideshows are great because you get to showcase photos in a more creative way. They're ideal for presentations and even as memorabilia for special events like weddings, graduation and birthdays. To create a slideshow, you'll most likely need a slideshow maker. Speaking of which, SmartSHOW 3D is professional slideshow software that lets you create animated slideshows with music, eye-catching special effects, stunning transitions and more. It's time to find out if it can truly live up to your expectations.
What Is It and What Does It Do
Main Functionality
SmartSHOW 3D is a professional slideshow maker that is compatible with Windows 10, 8, 8.1, 7, Vista and XP. With it, you can create all sorts of slideshows ranging from simple slides to impressive animated slideshows. It features a suite of professional tools for slideshow creation and a collection of over 250 special effects and photo transitions. It also has built-in templates for you to use plus you can convert your photo slideshows to any video format in standard or HD resolution.
Pros
Simple yet intuitive (user-friendly interface) with live preview option
Users can edit slides via timeline or storyboard
Features a wide selection of professional tools for creating slideshows
Features over 250 special effects and transitions
Features ready-to-use slideshow templates with specific themes
Has options for creating complex slides that supports layers
You can add videos and music to slideshows as well as custom text, title clips, captions, comments and even voiceovers
Save multiple slideshows as projects so you can edit them later
You can adjust the photo position to fit the frame, go full screen, landscape, etc.
You can adjust the slideshow aspect ratio for HD (16:9) or standard viewing (4:3)
You can easily import photos by folders
Save and optimize slideshows in different video formats such as AVI, MP4, MKV, MOV, MPG, etc.
Supports slideshow formats that can be played on various types of mobile devices
Save and burn your slideshows directly to DVD
Supports various photo or image formats including JPG, PNG, GIF, etc.
Unlimited slides (images)
Has options for controlling slide appearance or timing
Multi-language support
Cons
Discussion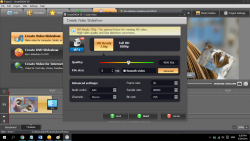 It may be true that there are plenty of slideshow makers in the market but it's not easy to find a slideshow maker that raises the bar. With SmartSHOW 3D, you may be thinking if it's really worth it. After all, it's no freeware. It offers both Standard and Deluxe versions which you can buy at $57 and $85, respectively. It offers a free 10-day trial but your output slideshows will include a watermark.
Thus, SmartSHOW 3D must have something that you can't find on other slideshow makers. Well, for starters, this professional slideshow software features a suite of professional tools and options for slideshow creation. That means you do not only get to create basic photo slides, you can also make animated slideshows with music, videos, captions, title clips, voice comments (a.k.a. voiceovers), subtitles and even 3D effects. In addition, this software also features a wide-range of templates that you can use to create slideshows on the fly.
With this professional slideshow software, you can also choose from its 250+ transitions and special effects. You're free to be creative in all sorts of way. You are free to make slideshows based on a specific theme which is great especially if you're making a special slideshow for events, weddings, anniversaries and birthdays.
Now, the first thing that came to my mind upon testing this software is that it has a Windows Movie Maker vibe. The main difference is that SmartSHOW 3D is purely intended for creating slideshows.
Functionality wise, SmartSHOW 3D is simple and intuitive. It does not have a steep learning curve and is great for beginners. When using the software for the first time, you'll be welcomed by a quick guide so you won't get lost throughout the whole process. Just select a theme from its wide range of ready-to-use templates, load the photos that you want and you're done. You can select and add one photo at a time or simply select an entire folder. When it comes to formats, the said software supports and recognizes almost any type of image format which includes PNG, GIF and JPG.
If you want to add a personal touch to your slides, you can choose to start with a blank slideshow and then manually add any element that you want including special effects, music, subtitles, voiceovers, custom background and transitions. It's also very easy to add photos and arrange them accordingly. That's because SmartSHOW 3D has a built-in photo explorer. So just select the photo that you like, right-click on it then "Add" and it will appear on the storyboard or timeline. You can also preview your slideshow while you edit. If you want to add music or do a voiceover, you are also free to do so.
In short, SmartSHOW 3D gives you the freedom to create slideshows according to the way you want it. You're free to explore its wide range of features and options. Once you're done, it's up to you to choose the slideshow video format that you want. You can save it as AVI, MP4, MKV, MOV, MPG, etc. The software's Create wizard will guide you through the steps so you'll know which format is best suited for the slideshow that you want. This software also lets you save your slideshows in standard or HD format. Afterwards, you're free to play the slideshow using your default media player. You can even upload or share them online to Facebook, YouTube, etc.
Conclusion and Download Link
SmartSHOW 3D is something you should consider buying especially if you're making slideshows on a regular basis. If you get its "Deluxe" version, you'll also be able to include video footages and clips. It has almost all the tools and features you need for creating quality slideshows. It may not be as good and modern as the top slideshow software in the market but it can definitely compete.
Price: Paid with 10-day trial (Standard – $57, Deluxe – $85)
Version reviewed: 8.0
Supported OS: Windows XP, Vista, 7, 8, 8.1 and 10
Download size: 92.9MB
VirusTotal malware scan results: 1/57
Is it portable? No
Related Posts