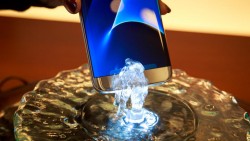 Those who are mature geeks might remember the days when blocking annoying ads from websites was done by using host file editing and not apps like the ad blockers we find coming to us from browser extension add-ons like we have today. The same host file editing software can be used for blocking access to websites too. Anyone looking to kill two birds with one stone and do both of those things might enjoy installing the Host Editor application. The Host Editor app is available to you as soon as you root the Samsung Galaxy S7 smartphone after the break and it's also free for everyone to try.
Here's everything you need to root the Samsung Galaxy S7 smartphone and install the Host Editor app and other root apps of your choice:
REQUIREMENTS
BEFORE WE BEGIN
Note that by installing a custom recovery and/or rooting the Samsung Galaxy S7 smartphone you are agreeing to void the Samsung warranty. Some mobile service providers don't mind you rooting the device and will continue to offer free support under a warranty. Inquire with your provider if the warranty is important to you.
The guide directs you to take a complete backup from within the frames of your custom recovery partition. However, if you do not want to take your backup using the NANDroid backup feature from the recovery, you should install an app like Helium and back up that way instead. Those preferring to backup with applications after getting root access might prefer backing up with Titanium over Helium but the option is not there for you yet.
HOW TO ROOT SAMSUNG GALAXY S7 SM-G930FD ON ANDROID 6.0 MARSHMALLOW
Download the updated SuperSU package from here.
Connect the Samsung Galaxy S7 smartphone to the computer with the USB cable.
Copy the SuperSU beta over to the root of the internal SD card.
Unplug your Sammy S7 smartphone from the computer once you are satisfied, you do have the SuperSU on the internal storage space.
Boot the Samsung Galaxy S7 smartphone into recovery mode and you should find your custom recovery booting up and not the stock recovery.
Tap on the Backup button from the main recovery menu and take your NANDroid backup of the data before continuing.
Tap on the Install button from the main recovery menu and follow the prompts to upload the SuperSU zip file from your S7's internal storage SD card.
Swipe on the bottom of the display where it says you need to swipe to confirm your installation.
Once you have flashed your SuperSU package, choose the 'reboot System' option from the main recovery menu.
In conclusion, that's how to root the Samsung Galaxy S7 smartphone using a custom recovery and the SuperSU zip file from Chainfire. There is no official CF-Auto-Root package available for this device just yet, but you will be able to root that way instead once it comes out.
Related Posts