Windows user? You got it! Mac fanboy? It just works! Linux enthusiast? No problem! Smartphone or tablet owner? You betcha! What if the same app/software/program is available for (legally) free for all operating systems (OS) or platforms you use? Well, for that particular software, you virtually don't have a learning curve every time you come up with a new OS.
Here is a list of 12 cross-platform apps that may help most people:
Opera: With an internet browser, one should be able to do fast, easy and safe web surfing, but why Opera instead of more popular Google Chrome or Mozilla Firefox? Well, Opera is the only browser available for all the 6 OSs mentioned here. Opera is known to consume less data, too.
Foxit Reader: Only PDF reader available for Windows/OS X/Linux/Android/iOS/Windows Phone. It helps you view, create, annotate, and print PDF fast and safe.
VLC Player: An extremely popular multimedia player (and framework) that plays, including but not limited to, most multimedia files, DVDs, audio CDs, VCDs, and different streaming protocols. Open source, too!
Skype: You can call, share, message and express yourself using Microsoft Skype messenger that is offered for all the 6 platforms we are talking about here.
GIMP: GIMP is the GNU image manipulation program used for photo retouching (aka editing), image composition and image authoring. Not very user-friendly, but hey, it's a free multi-platform powerful program!
Audacity: An open source software for recording and editing sounds. Wanna make a ringtone from your favorite song? Bingo, you are gonna do it by easy-to-use Audacity!
HandBrake: An open source video transcoder/editor. Like to play the disc video in your mobile device? Then this software is for you.
Calibre: An open source e-book library management application developed by users of e-books for users of e-books. Practically reads any e-book format.
Evernote: It helps you take notes, track tasks, and save things you find online. It syncs everything between your phone and computer automatically.
WPS Office and LibreOffice: Eh, why am I now up for two instead of one? Unfortunately, it turns out a free document/spreadsheet/presentation making software may not be had for the entire desktop and mobile OSs. Therefore, while I recommend LibreOffice for Windows/OS X/Linux, I give two thumbs up for WPS Office for Android/iOS/Windows Phone.
TeamViewer: For remote support and online meetings (for all the 6 platforms). TeamViewer connects to any PC or server around the world within a few seconds. You can remote control your partner's device as if you were sitting right in front of it.
µTorrent: A light, efficient torrent downloading client. For instance, if you visit the https://archive.org/ site, you can find tons of legally downloadable videos and the other media that can be saved effortlessly to your device by this program.
The following is a comparison among the availability of the above and more similar apps in different OS! I have included only those apps that are obtainable in 3 or more platforms.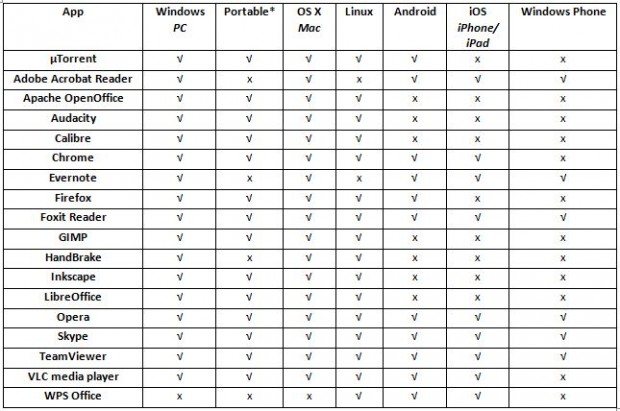 * Portable software means it can be run in Windows without installation; you got it right, you can run it from a pen/flash/USB drive or external hard drive!
You may not have identical experience with a certain app in all OS, not even in different versions of a given OS; however, there exists a room for the development with updates. Always download the latest "stable" version!
Related Posts