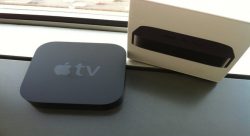 Gone are the days when you had to get up every time you needed to change a channel on your television. Your Apple TV can now automatically turn on your TV for you. It can even control the volume of your TV. This latest feature allows you to control the TV even when you are not in front of the television set. By setting up your television and configuring it with your Apple TV, you can automatically turn on your TV.
What is an Apple TV?
An Apple TV is a digital media player. It was developed and marketed by Apple. It is an entertainment device that can receive digital data from various sources and play it on your television. A person can plug an Apple TV into their TV and watch endless movies, videos, and programs from various platforms such as a computer, a hard drive or from the Internet.
Advantages of an Apple TV
Access to the Apple App Store: An Apple TV can easily access the App store. It is believed that the future of television is apps, and through an Apple TV you can easily search and buy the apps you like.
Operating System: An Apple TV comes with a new operating system. It is called the TV OS. This new operating system allows the user to add apps and games to his Apple TV.
Siri Voice: Siri voice-recognition is an excellent feature in an Apple TV. It can recognize what you like to watch and search.
Sleek Design: An Apple TV comes in a sleek design. The black color adds to the look.
User Interface: An Apple TV's user interface is very good. It is easy to access apps through the new Apple TV.
Setting up an Apple TV is easy and it is not a time consuming process at all. You can set it up within a few minutes and can configure it in such a way that by using an Apple TV you can automatically turn on your TV.
Steps to Automatically Turn On Your TV With Apple TV
Before you begin the process, you should ensure the following:
Your Apple TV should automatically detect your TV.
An Apple TV's remote should be configured in such a way that it should control your power and HDMI input.
You should make sure that the path is clear between your remote and the television.
An Apple TV supports the HDMI-CEC functionality. An HDMI-CEC is a feature that allows you to connect devices to your TV. Devices are connected using the HDMI ports. These features help the devices to communicate back and forth with your television. With the help of an HDMI-CEC, you can automatically turn on your TV with an Apple TV.
The preliminary step is to enable the HDMI-CEC in your television. After it is enabled, you should go to "Apple TV > Remote and Devices" from the "Settings" and find the "Home Theater Control" section. You have to ensure that the TV's control and receivers are kept on. That's all you need to do. You can now automatically turn on your TV without being in the room with Apple TV.
Conclusion
An Apple TV can give you an awesome TV viewing experience like you have never had before. Using the Apple TV remote control, you can not only automatically turn on your TV and control the volume of the TV easily, but also easily scroll, navigate and touch your TV screen, and even play high graphic content games effortlessly.
Related Posts