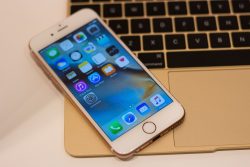 The iOS 3.1 update was recently rolled out for iPhone, iPad and iPod touch. With it comes new features and fixes as it is considered to be a major update. For those who have already downloaded this update, you can definitely recognize some changes in your device. This includes updates in the user interface, a new file system and some new Siri features that allows you to schedule Uber rides ahead of time. If you've noticed, the said update also brings some minor changes to Apple Music, Mail, Safari and other stock apps.
The thing is this update also had users complaining about several issues related to connectivity such as Wi-Fi and Bluetooth lags. There are also users who are complaining that the said update has affected the battery of their devices causing it to drain faster than usual.
Now we all know that any update could potentially cause data loss so always make sure to keep a backup of your important data first. Nonetheless, if you have already updated to iOS 10.3 (and even to the latest stable release which is iOS 10.3.1) and seem to have forgotten how to restore the data from your backup, here's a quick guide.
Restore iPhone from Backup after iOS 10.3 Update
If you performed the backup process using iTunes or iCloud backup, the restore iPhone from backup process is not that difficult to do. With iTunes, make sure you have the latest version of it first and then go to Summary. It will show the device you've backed up. On that screen, select "Restore iPhone…" and then choose the latest backup version to restore.
If you used iCloud backup, simply go to Settings > iCloud > Storage > Manage Storage. Select your device listed under Backups to check the latest backup file. Next, go to Settings > General > Reset then select "Erase all content and settings". Moving forward, go to the Apps & Data screen and then select Restore from iCloud Backup. Sign in using your iCloud account when asked. Choose the latest backup version and depending on how large the backup file is, it could take some time.
Now if you find that your iPhone won't restore any of your backup, there are several third-party tools (e.g. Wondershare Dr.Fone) that can help you recover lost iPhone data. You just need to follow that software's specific process on how to recover or restore lost data. With it, you need not panic about losing your important photos, contacts, messages, etc.
Related Posts