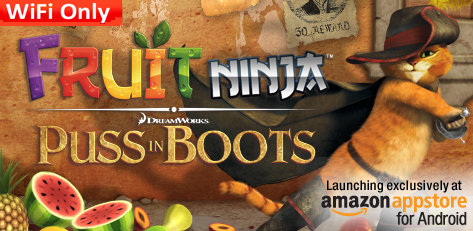 Enjoy Fruit Ninja? Then you may want to pull out your device asap because for the next 24-hours (December 27, 2011 only) Amazon Appstore is giving away Fruit Ninja: Puss In Boots for free!
Note: Amazon Appstore is USA only. There are tricks on how to get it to work outside the USA but you need a real (or virtual) credit card.
Fruit Ninja: Puss In Boots is new game by Halfbrick Studios based off their popular Fruit Ninja:
En Garde!

Fruit meets fairytales in Fruit Ninja: Puss in Boots.

The suave, fruit-slashing swashbuckler, Puss in Boots, faces a challenge that would make Sensei proud. Prepare for a journey of familiar fruit-slicing action as Puss encounters a wealth of new and exciting challenges in his search for the Magic Beans.

Puss in Fruits

Slice through a series of increasingly exciting challenges in the all-new Bandito Mode, and become the greatest Fruit Ninja warrior of all time. Each stage thrusts you into never-before-seen fruit frenzy adventure. Face massive fruit from the Giant's castle, precision and timing challenges, and all-out fruit onslaughts with new obstacles. Plus, for the first time ever, throw down against the much-requested tomato!

Real Banditos must put their best blade forward, because scoring is based on the number of fruits sliced, ninja reflexes, and slicing efficiency. A true produce warrior can upload their massive high scores to global leaderboards, and rank among the best players online.

If Kitty-Looks Could Kill

Bring your blade to Desperado Mode–an enhanced and re-mastered version of the Classic Fruit Ninja game. But this time, you will face even more fruit, unique waves, and Puss in Boots' elusive Magic Beans from the DreamWorks Animation feature film.

Finally, bask in the fruit-stained glory of Puss in Boots' own exclusive Ninja Stash, featuring a whole range of unique customizable content, including new backgrounds and blades.

Stay juicy, amigos!
If this is the first time you are hearing about Fruit Ninja: Puss In Boots, don't worry. Fruit Ninja: Puss In Boots is a brand new game and is exclusively launching at Amazon Appstore — you won't find it on Android Market, yet.
You can grab Fruit Ninja: Puss In Boots from the Amazon Appstore app on your device or hit up the link below:
Fruit Ninja: Puss In Boots [Amazon Appstore]
Related Posts