iOS has over 600,000 apps. With so many apps out there, app discovery (aka finding new and useful apps) is extremely difficult. With our iOS Apps of the Day initiative, dotTech aims to change that. Everyday we post three apps, allowing our readers to discover new apps, daily. Enjoy! [Subscribe to our iOS section to never miss an article: RSS Feed | E-mail]
Developers: Click here to get your apps featured here!
dotTechies: Want to see an app on here? Send us a tip!
Apps for April 1, 2012
Fat Photo Kiosk © HD Lite
Fat Photo Kiosk © HD Lite is photo modifying app that allows you to change a picture of someone you know and make them look overweight. It uses photos that you have in your gallery or by using the camera. This will show you the possibility of what someone would look like if they let themselves go. If you bought the full version, you can save the photo to the gallery and even share it with friends through Facebook, Twitter, email or even through the regular mail. You can pull a prank on one of your friends and see what reaction they show a heavyset person that would look sort of similar to the image.  Also this can be a time waster, but it can also be a lot of fun playing pranks on your friends in good clean fun.
Version discovered: 8.5

Requires: iPhone/iPod Touch/iPad; iOS 3.0 and up

Download size: 11.4 MB

Fat Photo Kiosk © HD Lite on iTunes
Fat Photo Kiosk © HD on iTunes
Slingo Supreme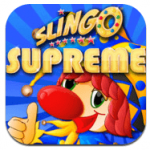 Slingo Supreme is a game app that combines Bingowith Slots. This game has been around for a very long time.  It got its start from AOL back when dial-up internet was the only was of g, and the rest is history. You will get points for clearing a pattern, and you're score would brilliant if you filled he card sompletely.  You will see a cherub or a red devil. There are tons of achievements that you can earn while playing the game. Be prepaired this came is highly addicting and a lot of fun. You will get free power pickups that you can either use right away or keep a hold of them just in case. If you aren't familiar with Slingo, you can get the light version and as always it to see how well you can do in this app. You can always do the best you can in the daily challenge which is very different from any other with a Lite and paid versions. Just remember the Lite version has some limitations so if you love the game buying the full version is probably the best rout especially if you love this game very much.
Version discovered: 1.11.98

Requires: iPhone/iPod Touch/iPad; iOS 3.0 and up

Download size: 21.4

101 Crazy Sounds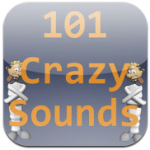 101 Crazy sounds is the perfect thing for playing jokes or pranks with anyone you know with all these crazy sounds this app makes. Of course just like any other app this one will pull up a list of sold from within the  apps that you want to play just to freak some of your friends you. A lot of these that hear the sound will not know what happened and thinking someone mght have gotten hurt.  Joking around can be a good bit of fun so long as your friends and co-workers has a great sense of humor.  Be careful when you are using it sparing or all out because someone might not appreciate the humor in this app.
Version discovered: 2.1

Requires: iPhone/iPod Touch/iPad; iOS 3.0 and up

Download size:
dotTechies: We have tested all the apps listed above. However, iOS Apps of the Day articles are not intended as "reviews" but rather as "heads-up" to help you discover new apps. Always use your best judgement when downloading apps, such as trying trial/free versions before purchasing paid apps, if applicable.
Related Posts