iOS has over 600,000 apps. With so many apps out there, app discovery (aka finding new and useful apps) is extremely difficult. With our iOS Apps of the Day initiative, dotTech aims to change that. Everyday we post three apps, allowing our readers to discover new apps, daily. Enjoy! [Subscribe to our iOS section to never miss an article: RSS Feed | E-mail]
Developers: Click here to get your apps featured here!
dotTechies: Want to see an app on here? Send us a tip!
Apps for April 4, 2012
Foreca.st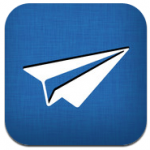 Foreca.st is a social networking app that works with your Foursquare account and informs your friends on Facebook or Twitter, but it does more than that. You can find more interesting places and even find your friends close by and meet up with them. You can tell your friends where you are going to be, and they will either let you know that they will join you so you can have a night out with people you know and trust. You also get check-in reminders when you get close to your location, and you can even invite more your friends to use Foreca.st to connect with them as well. You can post your check-ins to Foursquare so you can get your points like you would if you were using Foursquare. You could do multiple check-ins so you won't lose your mayorship of the places you are the "mayor" of, and you can even check-in with just one touch.
Although this app is the latest one, unfortunately the app that this was tested on is an older phone, but that shouldn't change with how the app runs on your device.
Version discovered: 2.0

Requires: iPhone/iPod Touch/iPad; iOS 4.0 and up

Download size: 4 MB

Egg A Sketch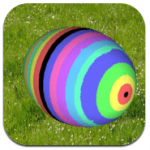 Egg A Sketch is a design your own egg app with many colors and styles.  You can even spin the egg in three different directions and have lines go around the egg for that striped look. You can make any sort of pattern you want using the pencil, and make sure you select the icon for you to move the egg yourself by using your finger. It makes designing an egg fun and in time for Easter.
The Free version only has the designer, but if you want to save, email or duplicate the egg you will have to pay for the Pro version.
Version discovered: 1.1

Requires: iPhone/iPod Touch/iPad; iOS 3.0 and up

Download size: 8.6 MB; Pro – 7.7 MB

Drop7 FREE by Zynga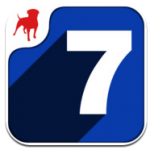 Drop7 FREE by Zynga is a Tetris-like game that all you are dropping are numbered balls from 1 to 7 or even a gray ball. The object of the game is to have the same number lined up horizontally or vertically that matches up with the number on the ball.  For example, you have a 2 followed by a 6, and you drop a 3 next to one of them. The 3 will disappear and add points to your score since there was three in that run. If you have a set that also includes a gray ball so long as the number that is taken away is next to the gray ball it will break and cause it to change a little.  After the second break it will reveal a number now able to be taken off the board when you get the right kind of set.
It will be noted that this game did play, but it seems there are reviews stating that it doesn't work on their device. It would be safe to assume that this game might not be optimized for the latest iOS so stick with the Free game for now until the bugs gets worked out so you can get the ad-free version.
Price: Free (Ad supported); $2.99

(Ad free)
Version discovered: 2.3

Requires: iPhone/iPod Touch/iPad; iOS 3.1.3 and up

Download size: 9.5 MB

dotTechies: We have tested all the apps listed above. However, iOS Apps of the Day articles are not intended as "reviews" but rather as "heads-up" to help you discover new apps. Always use your best judgement when downloading apps, such as trying trial/free versions before purchasing paid apps, if applicable.
Price: Free; Pro – $1.99
Related Posts