Today's Apps
Subscribe to our iOS section to never miss an article: RSS Feed | E-mail
About iOS Apps of the Day
iOS has over 600,000 apps. With so many apps out there, app discovery (aka finding new and useful apps) is extremely difficult. With our iOS Apps of the Day initiative, dotTech aims to change that. Everyday we post three apps, allowing our readers to discover new apps, daily. Enjoy! [Subscribe to our iOS section to never miss an article: RSS Feed | E-mail]
Developers: Click here to get your apps featured here!
dotTechies: Want to see an app on here? Send us a tip!
Apps for April 11, 2012
Keeper® Password & Data Vault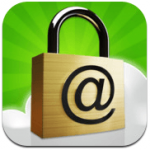 Keeper® Password & Data Vault is a password keeping program that stores your personal passwords securely by locking it with a numeric code that you set at the first time you run the app. This app also can generate a random password if you can't come up with one. You can login to web sites right from the app with just one touch. You can use a full text search so you can find the information you need. There is no limit to how many entries you have within the app. All records are encrypted with the military AES encryption, and you can back up your data on your computer or to Keeper's Cloud Security Vault™.
Since this is the free version you only get the option to do a local back up only, but if you paid from within the app a $9.99 annual subscription fee you get cloud back up, multi-device sync, and 24 X 7 live support. The free app has the full version included for 30 days so you can try it before you pay the subscription fee.
Version discovered: 4.12

Requires: iPhone/iPod Touch/iPad; iOS 3.0 and up

Download size: 9.1 MB

Keeper® Password & Data Vault on iTunes
Use Your Handwriting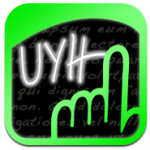 Use Your Handwriting is an app that you can take notes with just by using your finger to write in your own style cleanly and neatly (so long as you can read it it isn't messy to anyone else).  The app tells you that you have beautiful handwriting, but it seems that it could be just trying to make you feel better. There are supposed to be some calligraphy styles, but that couldn't be found right away in the free app. You can choose different colors or a theme from a menu selection on the palette at the top left. Once you start writing the screen will scroll to the right so you could continue once you get to the end of your screen. This doesn't work well since you have to start somewhere else and not flow like you would if you were writing on a piece of paper.
The GOLD version has a few more features like having unlimited scrolling space for everything you want to write out on the screen. You can cut and paste notes between lists, make notes blink or dim them to indicate priority, and any note can be turned into a list with a quick double tap. It might be safe to assume that the calligraphy styles are in the GOLD version.
Version discovered: 3.91; GOLD – 5.9

Requires: iPhone/iPod Touch/iPad; iOS 3.0 and up for Free and 4.0 and up for GOLD

Download size: 8.2 MB; GOLD: 12.8 MB

Use Your Handwriting on iTunes
Use Your Handwriting GOLD on iTunes
Atlantis Sky Patrol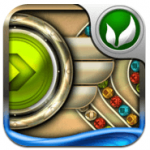 Atlantis Sky Patrol is a fast paced puzzle game that you progress from level to level zapping away 3 or more of the same color before the colored balls get to the end of the line. The challenge is that some of the tunnels are overlapping so you have to be very careful when you are sending the ball to your destination or else you'll have a larger mess on your hands and have to remove more than you were getting. You can set off a chain of matches if you set one right and the ones that disappear will match up with the others which will also disappear from the board.
The game has more than 100 challenging levels, earn coins for unique upgrades, fun mini game between levels, stunning art deco visuals, and you can listen to your iPod library while playing with fully integrated OS3 music controls. There is an HD version that you can get for free on your iPad, but if you want the full game you can pay for it in the app for $3.99.
Version discovered: 1.2; HD: 1.0.0

Requires: iPhone/iPod Touch/iPad; iOS 2.0 and up; HD: iPad; iOS 4.2 and up

Download size: 25.8 MB; HD: 40.8 MB

Atlantis Sky Patrol HD on iTunes
dotTechies: We have tested all the apps listed above. However, iOS Apps of the Day articles are not intended as "reviews" but rather as "heads-up" to help you discover new apps. Always use your best judgement when downloading apps, such as trying trial/free versions before purchasing paid apps, if applicable.
Related Posts