Today's Apps
Subscribe to our Android section to never miss an article: RSS Feed | E-mail
About Android Apps of the Day
Android has over 450,000 apps. With so many apps out there, app discovery (aka finding new and useful apps) is extremely difficult. With our Android Apps of the Day initiative, dotTech aims to change that. Everyday we post three apps, allowing our readers to discover new apps, daily. Enjoy! [Subscribe to our Android section to never miss an article: RSS Feed | E-mail]
Developers: Click here to get your apps featured here!
dotTechies: Want to see an app on here? Send us a tip!
Apps for April 30, 2012
The Avengers-Iron Man Mark VII
The Avengers-Iron Man Mark VII is an interactive Iron Man comic for Android. It follows Tony Stark's Iron Man journey from start up to the point where the Iron Man 2 movie ends — when Stark and Rhodes fight off the Hammer robots. The comic is 15-20 pages long with soundtracks and optional narration. The animations are extremely well done and the comic is interactive in the sense that you can click on objects in the comic that give you a unique experience (e.g. clicking on Iron Man VII's armor to assemble the suit on Stark).
Price: Free
Version discovered: v1.0
Requires: Android 2.2 and up
Download size: 32 MB
The Avengers-Iron Man Mark VII on Play Store
K-9 Mail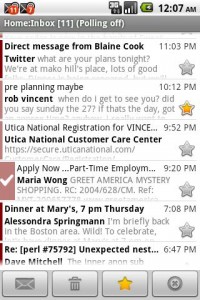 K-9 Mail is an open source e-mail app for Android. It supports POP3, IMAP, and Exchange 2003/2007 e-mail accounts. In other words, it works with almost all web e-mails (Gmail, Hotmail, Yahoo, etc.) and Microsoft Exchange e-mails. Other features include push notifications, push IMAP emails, folder sync, signatures, cc and bbc, flagging emails, archiving/filing emails, storing emails on SD/internal storage, and more.
Overall, K-9 Mail is definitely one of the best e-mail apps you will find. Take note that with Exchange it only does e-mail sync — all the other exchange goodies (like calender, etc.) are not synced with K-9 Mail.
Price: Free
Version discovered: v4.006
Requires: Android 1.5 and up
Download size: 2.3 MB
Browser for SkyDrive
Microsoft SkyDrive offers 25 GB of free cloud storage. The problem, however, is SkyDrive has no official app for Android (yet). If you are a SkyDrive user who owns an Android device, Browser for SkyDrive may be for you. Browser for SkyDrive is a fully functional SkyDrive client for Android. With Browser for SkyDrive users can download/upload files from/to their SkyDrive account; create SkyDrive folders; generate links to share SkyDrive files with others; share files via other apps (messaging, e-mail, etc.); browser shared folders; and more. Anything the SkyDrive API allows developers to do, Browser for SkyDrive does it. On the flip side, the SkyDrive API does not allow for mesh service or group folders so Browser for SkyDrive does not support those two features.
Take note Browser for SkyDrive can only download/upload documents (PDF, text, and Microsoft Office files), photos, videos, and audios. This is because the SkyDrive API only allows support for these files.
Browser for SkyDrive is free and ad-supported. Browser for SkyDrive Pro is paid and ad-free.
Price: Free
Version discovered: v1.6.2
Requires: Android 2.2 and up
Download size: 792 KB
Browser for SkyDrive on Play Store | Browser for SkyDrive Pro on Play Store
dotTechies: We have tested all the apps listed above. However, Android Apps of the Day articles are not intended as "reviews" but rather as "heads-up" to help you discover new apps. Always use your best judgement when downloading apps, such as trying trial/free versions before purchasing paid apps, if applicable.
Related Posts