Today's Software
Subscribe to our Windows section to never miss an article: RSS Feed | E-mail
About Windows Software of the Day
Windows has hundreds of thousands of programs. Because of this great volume and lack of a central store, software discovery (aka finding new and useful programs) is extremely difficult. With our Windows Software of the Day initiative, dotTech aims to change that. Everyday we post three programs, allowing our readers to discover new software, daily. Enjoy! [Subscribe to our Windows section to never miss an article: RSS Feed | E-mail]
Developers: Click here to get your apps featured here!
dotTechies: Want to see an app on here? Send us a tip!
Software for May 8, 2012
AutoSaver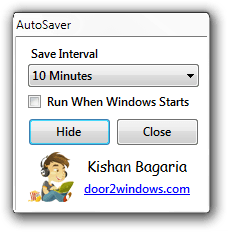 Want to automatically save documents in any program? AutoSaver will do the trick. It works by simulating a Ctrl+S keypress on a given interval and can be set to run anywhere from once every quarter of a minute to every ten minutes.
However, AutoSaver's not really that good. It doesn't let you pause it after you start it, which means that if you decide to use a web browser (where you don't really want it to automatically save every fifteen seconds) or some other such program you'll need to close it entirely.
AutoSaver is still quite convenient, so long as you remember to run it only when you're writing something of importance. It's also portable, which is nice.
Note: if you do not run AutoSaver as administrator it will show an error. It will still run perfectly fine, however, it will not save its settings across runs, leading to (unintended?) portability. If you run AutoSaver as administrator once it will save the settings and remember them even when you start it without administrator.
Price: Free! 
Version discovered: unknown
Supported OS: Windows unknown
Download size: 71KB
VirusTotal malware scan results: 0/42
Portability: No install required; saves registry data
WinThunder
Want instant access to all your favorite programs, folders, and the weather in your system tray? WinThunder is a lightweight, beautiful program that does exactly this.
After starting WinThunder, you'll want to configure the weather and the shortcuts. To set the weather, just click on where the city name should be, and the settings window will open. To add shortcuts, just right click and select Create Shortcuts.
Once you've gotten WinThunder customized to your needs, it'll not only be a beautiful system tray icon, it'll be a useful one. And what's better than nice and useful?
Price: Free!
Version discovered: BETA
Supported OS: Windows unknown
Download size: 1.3MB
VirusTotal malware scan results: 0/43
Portability: entirely portable
AppAdmin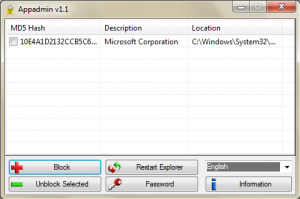 If you're a sysadmin or otherwise the owner of a computer that has multiple users, you may wish for them to not be able to use certain applications. However, blocking them well is hard to do. AppAdmin helps you do this by not only blocking them, but blocking them well.
When you block an app on AppAdmin, you'll have to restart Explorer. After you restart Explorer, though, any app that matches the MD5sum of the blocked app — even if you change the name of the app  — will be automagically blocked.
AppAdmin is a really great way to block users from opening certain applications.
Price: Free!
Version discovered: v1.1.0
Supported OS: Windows unknown
Download size: 323KB
VirusTotal malware scan results:
Portability: No install required; saves registry keys
dotTechies: We have tested all the software listed above. However, Windows Software of the Day articles are not intended as "reviews" but rather as "heads-up" to help you discover new programs. Always use your best judgement when downloading programs, such as trying trial/free versions before purchasing shareware programs, if applicable.
Related Posts