Today's Apps
SwipePad [Launch apps using swipe gestures]
LOL Pics [View humorous pictures]
SuperSU [An alternative Super User app]
Subscribe to our Android section to never miss an article: RSS Feed | E-mail
About Android Apps of the Day
Android has over 450,000 apps. With so many apps out there, app discovery (aka finding new and useful apps) is extremely difficult. With our Android Apps of the Day initiative, dotTech aims to change that. Everyday we post three apps, allowing our readers to discover new apps, daily. Enjoy! [Subscribe to our Android section to never miss an article: RSS Feed | E-mail]
Developers: Click here to get your apps featured here!
dotTechies: Want to see an app on here? Send us a tip!
Apps for May 9, 2012
SwipePad
A couple days back we featured Jet Launcher, an app that allows users to run apps using swipe gestures. SwipePad is an app with a similar goal – using swipe gestures to run apps – but it goes about it in an entirely different fashion. With Jet Launcher you set three apps in each of the four corner hotspots, using different swipe gestures to launch each app. On the other hand, with SwipePad you select any of nine hotspots (the hotspots are situated around the edges of your device's screen) which, when swiped, bring up a grid (or 'pad') which lists up to any twelve apps (or shortcuts, bookmarks, and contacts) that you select. Tapping on an app in that grid launches that app. SwipePad hotspots are always active so you can use them while at your homescreen or within a different app. In other words, you can use SwipePad to launch apps while you are using other apps.
SwipePad itself is free. If you want extended functionality, such as having more app slots in the grid or launching widgets using SwipePad, there are various SwipePad add-ons you can purchase.
Price: Free with optional paid add-ons
Version discovered: v0.9.3
Requires: Android 2.1 and up

Download size: 539 KB
Thanks Tejas!
LOL Pics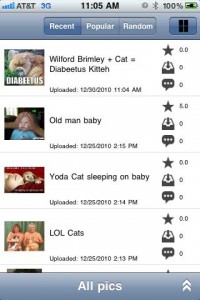 To put it simply, LOL Pics is an app that displays funny pictures. The app has over thirty categories of pictures you can view, with the ability to view the 'Newest' pics, 'Popular' pics, or 'Random' pics. When viewing pictures you can rate them, download them, e-mail the images to friends (image URLs are e-mailed, not the images themselves), or report the images if you feel they are inappropriate.
For the most part LOL Pics appears to have 'clean' images but parents still be warned this probably isn't an app for kids.
Take note it isn't clear if LOL Pics is a free or paid app. At the time of this writing the Play Store page says LOL Pics is "free for the next 10,000 people" so this is most likely a paid app — I am just not sure of its price.
Price: ???
Version discovered: v1.11
Requires: Android 1.6 and up
Download size: 394 KB
SuperSU
When you root your device you install a 'SuperUser' app that allows you to control which apps are granted root access. SuperSU is an alternative to that SuperUser app. SuperSU the basic root-access-control functionality of the traditional SuperUser app plus the added functionality of being able to temporary unroot. In addition to that, SuperSU works in recovery, with Android isn't properly booted, and with non-standard shell locations. If you decide to purchase SuperSU Pro, you get even more features such as pin protection.
Take note SuperSU requires a root Android device. You can install SuperSU directly from Android Market/Play Store — it will automatically install over the traditional SuperUser app.
(Note: For the most part the traditional SuperUser app should work just fine for most people. If you aren't happy with the traditional SuperUser app or want the added features of SuperSU, then get it.)
Price: Free
Version discovered: v0.89
Requires: Android 2.1 and up

Download size: 557 KB
dotTechies: We have tested all the apps listed above. However, Android Apps of the Day articles are not intended as "reviews" but rather as "heads-up" to help you discover new apps. Always use your best judgement when downloading apps, such as trying trial/free versions before purchasing paid apps, if applicable.
Related Posts