Today's Apps
Tic Tac Toe Free [Game]
Droid Sky View [Augmented reality astronomy app that shows you, in real time, the names and locations of stars, planets, etc. in the sky]
Keek [Share and view short 36-seconds videos with this Twitter-like service]
Subscribe to our Android section to never miss an article: RSS Feed | E-mail
About Android Apps of the Day
Android has over 450,000 apps. With so many apps out there, app discovery (aka finding new and useful apps) is extremely difficult. With our Android Apps of the Day initiative, dotTech aims to change that. Everyday we post three apps, allowing our readers to discover new apps, daily. Enjoy! [Subscribe to our Android section to never miss an article: RSS Feed | E-mail]
Developers: Click here to get your apps featured here!
dotTechies: Want to see an app on here? Send us a tip!
Apps for June 1, 2012
Tic Tac Toe Free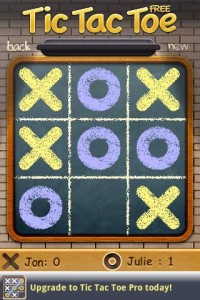 Tic Tac Toe Free is, as the name may indicate, a Tic Tac Toe game for Android. There aren't many options to this game, aside from selecting difficulty (if you are playing single player mode), selecting the pieces' colors, setting player 1/2 names, picking if X is first or O, and turning sound on/off. Instead, this is a simple no-frills classic tic tac toe game which you play alone or with a friend.
Price: Free
Version discovered: v1.25
Requires: Android 1.5 and up

Download size: 3.9 MB
Tic Tac Toe Free on Play Store
Droid Sky View
Droid Sky View is an augmented reality astronomy map app for Android. Based on your location – which is determined via GPS or, alternatively, you can manually enter a location name or your current longitude and latitude – and time of day, Droid Sky View shows you what is in the sky, whether that be stars, planets, constellations, etc. What makes Droid Sky View semi-remarkable is all you have to do is run Droid Sky View and point your Android device at the sky and it shows you what objects are in that place at that time; as you pan your device to different parts of the sky, Droid Sky View pans the sky view to reflect the new area you are pointing at. Other cool features of Droid Sky View include the ability to see what people on the other side of the Earth are viewing by simply pointing your device downwards; the ability to search for specific objects, such as a planet (although the search feature is a bit quirky — you have to get used to it); and pinch-to-zoom capability
Price: Free
Version discovered: v1.1
Requires: Android 2.1 and up

Download size: 16 MB
Keek
Keek is an app that allows users to share and view short videos. The best way to describe Keek is a Twitter-like service… except with short 36-seconds videos in which you film (using your front or back camera, including flash support) whatever you want and share it on Keek. Video uploads can have captions, such as @mentions (similar to Twitter), #hashtags (against similar to Twitter, and URLs; and all shared videos can be commented on and replied to with "keekbacks" (which are video replies). Similar to Twitter, users can follow and be followed by other users of Keek; newly shared videos are displayed in followers' streams. Take note, however, videos you share on Keek are freely viewable by anyone, not just your followers. If you want to share a private video with a follower, Keek has the ability to make 'Private Keeks' which are shared with only the people you select.
Take note you can view Keek videos without creating a Keek account but you must create a Keek account to share videos; and Keek is available via this Android app or via the web at Keek.com (it also has an iOS app but iOS is for chums… amirite?).
Price: Free
Version discovered: v2.3.5
Requires: Android 2.2 and up

Download size: 3.2 MB
dotTechies: We have tested all the apps listed above. However, Android Apps of the Day articles are not intended as "reviews" but rather as "heads-up" to help you discover new apps. Always use your best judgement when downloading apps, such as trying trial/free versions before purchasing paid apps, if applicable.
Related Posts