Today's Apps
syPhone09 (Multi-purpose app that has messaging, todo lists, calendar and more)
SnapShot Postcard (Mail a custom made postcard right from your device)
Aces Cribbage (Play against the computer in a game of cribbage)
Subscribe to our iOS section to never miss an article: RSS Feed | E-mail
About iOS Apps of the Day
iOS has over 600,000 apps. With so many apps out there, app discovery (aka finding new and useful apps) is extremely difficult. With our iOS Apps of the Day initiative, dotTech aims to change that. Everyday we post three apps, allowing our readers to discover new apps, daily. Enjoy! [Subscribe to our iOS section to never miss an article: RSS Feed | E-mail]
Developers: Click here to get your apps featured here!
dotTechies: Want to see an app on here? Send us a tip!
Apps for June 29, 2012
syPhone09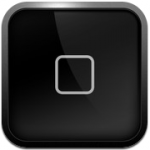 syPhone09 is an all-in-one app that include many of the features that is used every day. This app can send an email message without the need to open your included Mail app, create a todo list that you can check off by touching the check box, lets you read your favorite RSS news feeds after you add them in the app, displays the calendar for the past, current or future months, displays the current time and also add other times for anywhere around the world, set up your own weather locations so you know what to expect, and fastcall which you can add as many for up to 4 phone numbers that you call on a regular basis. You can also customize how this app looks rather than use the default theme.
Version discovered: 1.8

Requires: iPhone/iPod Touch/iPad; iOS 3.0 and up

Download size: 2.8 MB

SnapShot Postcard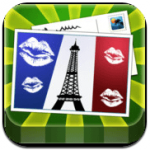 SnapShot Postcard gives you something that you can customize on your device and have the one that developed this app into a mailable postcard that you can send to anyone. You can pick what photo you want, create a border if you like, create a message on the back and include the return and mailing addresses. In order to look and use this map, you must have an account.  If you don't have one then you can create one easily just by providing an email address followed by two entries of the password so that it will verify that you have done what needs to be done to create your account.
The first postcard is free, but if you want to send others you need to have some money on account so that you can mail without thinking of how much your current trip to the post office would end up in spending a fortune to mail something. In order to get to pay for your future postcards is that you need to have some money added to your account so you can use it whenever you need to by adding credits so you could send a postcard telling your friends or family how good your trip is. The cost is one credit for mailing in the us and 2 credits for mailing internationally, and the cost of buying one credit is as low as $0.80 for each.
Version discovered: 2.9

Requires: iPhone/iPod Touch/iPad; iOS 3.0 and up

Download size: 19.8 MB

Aces Cribbage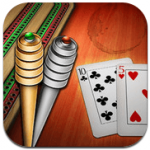 Aces Cribbage gives you the chance to play a nice game of cribbage on the go by playing against the computer. You can select from three different skill levels (easy, medium and hard), choose how many different games you want to play at one time, and even multiple styles of counting your cards for points. You can even set the game for "muggings" play which basically means if your opponent or vice versa doesn't count their cards total amount of points correctly the opposing player winds up with the full count of points for the incorrectly counted hand.
This app also has hundreds of variations of cribbage boards, pegs, and card design combinations, Game Center support for leader boards for each difficulty level as well as by the day, week and overall. If you don't know how to play the game, the first time you play the game it will ask if you know how to play. If you select no, then it will go through a step-by-step tutorial on how to play the game and how to count out your cards to allow the maximum amount of points you can get for your hand. It also includes a glossary of commonly used terms that you will need to know during the game's play.
Version discovered: 1.0.6

Requires: iPhone/iPod Touch/iPad; iOS 4.0 and up

Download size: 17.2 MB

dotTechies: We have tested all the apps listed above. However, iOS Apps of the Day articles are not intended as "reviews" but rather as "heads-up" to help you discover new apps. Always use your best judgement when downloading apps, such as trying trial/free versions before purchasing paid apps, if applicable.
Related Posts