Today's Apps
AFACEinHOLE (Place someone's face in another picture's face)
My Contacts Backup (Backup your contacts and email it without connecting your device to the computer)
Hangman RSS (A hangman game with achievements)
Subscribe to our iOS section to never miss an article: RSS Feed | E-mail
About iOS Apps of the Day
iOS has over 600,000 apps. With so many apps out there, app discovery (aka finding new and useful apps) is extremely difficult. With our iOS Apps of the Day initiative, dotTech aims to change that. Everyday we post three apps, allowing our readers to discover new apps, daily. Enjoy! [Subscribe to our iOS section to never miss an article: RSS Feed | E-mail]
Developers: Click here to get your apps featured here!
dotTechies: Want to see an app on here? Send us a tip!
Apps for July 12, 2012
FACEinHOLE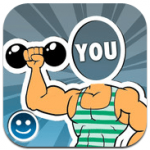 FACEinHOLE is a photo manipulating app that you can take a picture of your friend and put their face in another photo as if you were doing the wooden standing designs where you put your head in and take a photo. With this app you have the ability to use over over 200.000 scenarios and also use extras like video cards to create your own scenarios or record your videos. This app also includes some multiple person scenarios to make it even more hilarious. Even though you can just put a picture in another and it might not look right, but it can be fun just to play around with someone's face and doing something enjoyable.
Version discovered: 3.5

Requires: iPhone/iPod Touch/iPad; iOS 4.0 and up

Download size: 5.7 MB

My Contacts Backup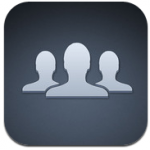 My Contacts Backup will back up all of your contacts up to 500 to a VCF file that you can send through your phone's email program without connecting your device to your computer. All you need to do is restore from the VCF file you saved in case you need to restore your contacts to your phone if it accidentally removes them all. This app also allows you to erase all of your contacts in case you needed to clear everything out to do a fresh restore. Your contacts can be restored on any iOS device so long as you have emailed the VCF file in order for the other device to pick it up.
If you have more than 500 contacts, you will need to get the Pro version which also includes you having the ability to back up to a CSV file so that you can open up you contacts in any spreadsheet program that supports that extension. Another difference between free and pro is that with free you get to back up the phone numbers, email addresses, URLs, mailing addresses, birthdays, photos, and notes while pro's options will allow you to back up phone numbers, email addresses, URLs, mailing addresses, dates (it would seem that it backs up more than just birthdays), and notes. Another good thing about pro is that after you do your first back up, you will get the option to turn WiFi Download on so that you can access this app using a web browser so you can download the file you created in case you are unable to email it. Also in pro, you can set a reminder so that you can do regular back ups in order for you not to lose your information.
Price: Free (Ad supported); Pro: $1.99

Version discovered: 1.4.3

Requires: iPhone/iPod Touch/iPad; iOS 4.2 and up

Download size: 2.6 MB

My Contacts Backup Pro on iTunes
Hangman RSS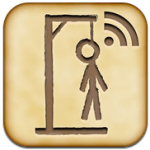 Hangman RSS is a hangman game that every time you play you will get a new board that you've not seen before. You also get achievements as well as checking the leader board on either OpenFeint or Game Center. This game has a smart point system, where your score is based on the value of each number multiplied at the time of its match where the multiplier decreases in time, and the value of letter by the decreasing multiplier at the time of completion. You also have a limited number of hints in case you get stuck where you will get more the easier the stage is or less the harder the stage.
Version discovered: 2.2.4

Requires: iPhone/iPod Touch/iPad; iOS 3.1.3 and up

Download size: 27 MB

dotTechies: We have tested all the apps listed above. However, iOS Apps of the Day articles are not intended as "reviews" but rather as "heads-up" to help you discover new apps. Always use your best judgement when downloading apps, such as trying trial/free versions before purchasing paid apps, if applicable.
Related Posts