Today's Software
Subscribe to our Windows section to never miss an article: RSS Feed [4] | E-mail [5]
About Windows Software of the Day
Windows has hundreds of thousands of programs. Because of this great volume and lack of a central store, software discovery (aka finding new and useful programs) is extremely difficult. With our Windows Software of the Day [6] initiative, dotTech aims to change that. Everyday we post three programs, allowing our readers to discover new software, daily. Enjoy! [Subscribe to our Windows section to never miss an article: RSS Feed [4] | E-mail [5]]
Developers: Click here [7] to get your apps featured here!
dotTechies: Want to see an app on here? Send us a tip [8]!
Software for July 15, 2012
RawTherapee
[9]Looking for a high-quality image processing program? RawTherapee gives you a plethora of options to edit any image file, including lossless RAW files.
RawTherapee lets you adjust exposure, highlights, shadows, tone mapping, and even make so-called "Lab Adjustments" such as brightness, contrast, saturation, and some other cool little features.
If you're not in the mood for changing everything yourself, it also comes with pre-adjusted Processing Profiles, allowing you to change the look of your photos with minimal effort. There's nothing that can be done to save a truly terrible photo, but with RawTherapee, you can make your good ones better.
Price: Free!
Version discovered: v4.0.9.50
Supported OS: Windows XP+/various Linux/OS X 10.5+
Download size: 17.1-17.7MB
VirusTotal malware scan results: 32-bit 0/42 [10] | 64-bit 0/42 [11]
Portability: Portable version available — thanks Eric989!
RawTherapee homepage [12]
[via AddictiveTips [13]]
Access Manager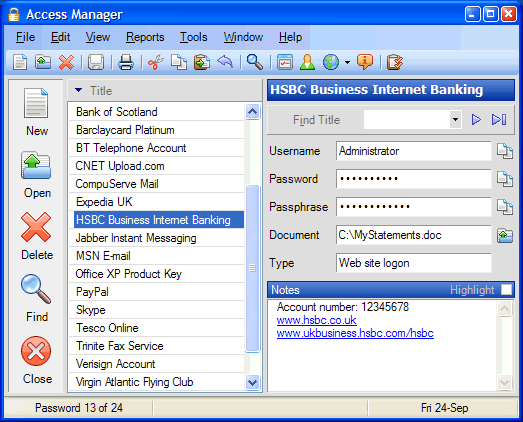 [14]Confused by all your passwords, but for some reason wary of accepted password storage programs  such as KeyPass [15] and LastPass [16]? Access Manager is another program that can be used to safely store passwords and passphrases.
The first thing to do when you open Access Manager is to set a master password. This is the password that'll keep your passwords from being stored in the clear. When making this password, make it as long and secure as possible.
Then, you can get to entering usernames and passwords. If you're looking for a new password, Access Manager lets you generate a new one from right inside the program. To tell the truth, I don't care how secure Access Manager is, I do not recommend storing credit card data as recommended on their website. However, if their claims can be believed, Access Manager uses a powerful combination of 256-bit Blowfish and Rijndael encryption methods.
Access Manager also allows you to make plain-text reports of passwords. It's a well-rounded program, and if you're looking for an alternative password management program, try it out!
Price: Free!
Version discovered: v2.2.60
Supported OS: Windows XP+
Download size: 2.9MB
VirusTotal malware scan results: 0/42 [17]
Portability: Requires installation
[via AddictiveTips [19]]
Soft2Base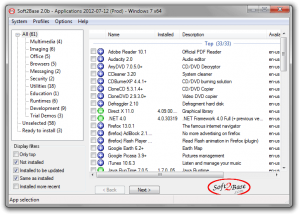 [20]Want to check for software updates without having to install some bloated program to do it for you? Rather than go to a website and search manually for updates like you might instinctively try to do, Soft2Base is an easy to use tool that shows you (from its limited set of compatible programs) which programs have new versions.
For some reason, Soft2Base shows software it supports that you don't have installed by default. Those are the pieces of software indicated with a blue plus sign. You can disable this "feature" by unchecking the "not installed" box in the lower left corner. The remaining symbols are a green equals sign indicating that you have the latest version installed and a purple down arrow indicating an update.
After configuring Soft2Base, it's quite easy to use. You just check the updates you want and hit Install. Soft2Base takes care of the downloading and installing of the apps, making it quite easy to use. If you're looking for a software updater, Soft2Base is yet another program to vie for your attention.
Price: Free!
Version discovered: v2.0b
Supported OS: Windows XP+
Download size: 880KB
VirusTotal malware scan results: 1/41 [21]
Portability: No installation required!
Soft2Base homepage [22]
[via AddictiveTips [23]]
dotTechies: We have tested all the software listed above. However, Windows Software of the Day articles are not intended as "reviews" but rather as "heads-up" to help you discover new programs. Always use your best judgement when downloading programs, such as trying trial/free versions before purchasing shareware programs, if applicable.