Today's Apps
Subscribe to dotTech to never miss an article: RSS Feed | E-mail
About iOS Apps of the Day
iOS has over 600,000 apps. With so many apps out there, app discovery (aka finding new and useful apps) is extremely difficult. With our iOS Apps of the Day initiative, dotTech aims to change that. Everyday we post three apps, allowing our readers to discover new apps, daily. Enjoy! [Subscribe to dotTech to never miss an article: RSS Feed | E-mail]
Developers: Click here to get your apps featured here!
dotTechies: Want to see an app on here? Send us a tip!
Apps for [August 18, 2012]
Slice – Shopping Organized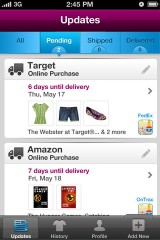 Slice is the only app on the App Market that tracks your shipments automatically. When you create an account and register your email, Slice will actually scan your entire inbox for all relevant purchase information (i.e. receipts, shipment announcements, etc.) sent from e-commerce merchants and displays it for you. Slice's interface shows the merchant, purchased item (picture & description), number of days until delivery, and a tracking feature which links to a map of each location where the item has been scanned. The whole process even includes push notifications when the package has been shipped, out for delivery, or has been delivered.
I cannot say enough about Slice. To me, it is probably the best app I have ever seen on the App Store. I downloaded when it first debuted and it was simply a package tracker with the features above. Since then, Slice has perfected the app for all types of issues you might run into in order to make the user experience a universally positive one. The Slice developers have also added a ton of new features such as price drop alerts, the ability to keep track of daily deal vouchers (i.e. Groupon, Living Social, etc.), etc. in order to cover more areas of interest to the typical shopper. All I can say is that I can't believe this app is free.
Price: Free

Requires: iPhone/iPod Touch/iPad; iOS 4.3 and up

Download size: 6.3 MB

Slice – Shopping Organized on iTunes
Movies by Flixster, with Rotten Tomatoes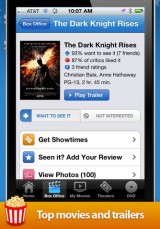 Flixster is an excellent app for finding movie reviews, trailers, and showtimes. The app allows you to browse all of the top box office movies, including big movies yet to be released and watch high quality trailers. You are able to look up showtimes at any theater of your choosing and even buy tickets from participating theaters. Flixster also provides free critic reviews from Rotten Tomatoes, as well as the ability to view and manage your Netflix queue.
It is worth mentioning that Flixster also provides a section that gives DVD release dates for all relevant movies. Since I am not a big moviegoer, this is a nice feature to have as well.
Price: Free

Requires: iPhone/iPod Touch/iPad; iOS 4.0 and up

Download size: 15.7 MB

Movies by Flixster, with Rotten Tomatoes on iTunes
Dice With Buddies Free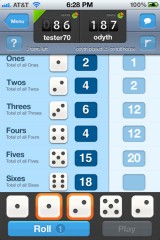 Dice With Buddies Free is a dice game very similar to Hasboro, Inc.'s YAHTZEE dice game. The app's turn-based play allows you to play multiple games at the same time against friends, family, and even random opponents. In-game chat allows you to talk with your opponents during the games and push notification are optional if you would like to notified when it is your turn to roll.
I have always been a YAHTZEE fan, so this game was a nice treat to download. This version (i.e. the free one) has annoying ads after your turn, so if you try the app out and enjoy it, it might be worth spending the extra money to get rid of them.
Price: Free ($1.99 to remove ads)

Requires: iPhone/iPod Touch/iPad; iOS 4.0 and up

Download size: 17.6 MB

Dice With Buddies Free on iTunes
dotTechies: We have tested all the apps listed above. However, iOS Apps of the Day articles are not intended as "reviews" but rather as "heads-up" to help you discover new apps. Always use your best judgement when downloading apps, such as trying trial/free versions before purchasing paid apps, if applicable.
Related Posts