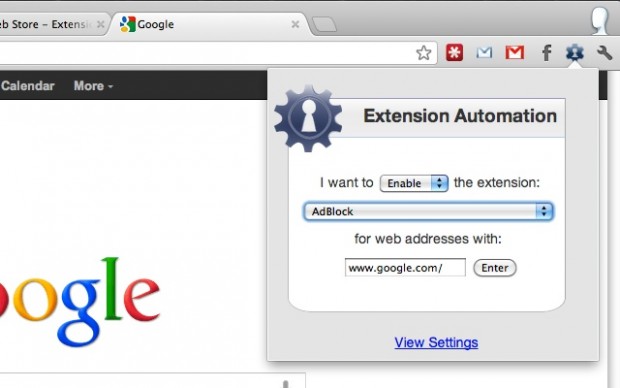 Ever wanted to force a Chrome extension to automatically disable itself when you visited a specific website? Some plugins, such as AdBlock Plus, have an option built-in that allow users to disable the plugins for specific websites. Other plugins, however, don't. That is where Extension Automation comes in.
Extension Automation is an add-on for Chrome that allows users to enable or disable other plugins for specific websites. For example, let's say you are using the Send to Kindle add-on and you want it to be disabled when you visit Facebook.com; you can do this by creating a simple rule in Extension Automation.
Creating extension enabling/disabling rules with Extension Automation is very easy. When on a website which you want one or more extensions enabled or disabled, simply click on the Extension Automation icon in the toolbar, select if you want to enable/disable, select the extension name, and hit the "Enter" button. Doing that creates a rule in Extension Automation that tells it what to do the next time you visit that specific website. You can add as many rules for as many addons for as many websites as you want.
An alternative to the method above, you can add or modify rules via Extension Automation's Settings.
Unfortunately there are limits to Extension Automation. Ideally Extension Automation should be able to disable an extension when you visit a particular website then re-enable it when you visit a different website. In reality, Extension Automation cannot do that because Extension Automation limits one rule per add-on. This means that you cannot create a rule to disable extension A on website B and create another rule to enable extension A on website C; you can only set an add-on to automatically disable or automatically enable — not both. Similarly, once you enable (or disable) an extension for a specific website, Extension Automation does not automatically disable (or enable) the extension when you visit other websites — that extension stays enabled (or disabled) until you restart Chrome.
Still, though, despite its limitation Extension Automation is a potentially useful extension for use when extensions don't have the built-in capability to disable themselves for specific websites. Hit up the link below to get started with Extension Automation.
Version reviewed: v1.1.2
Price: Free
Supported browser: Google Chrome
Extension Automation on Chrome Store
[via Ghacks]
Related Posts