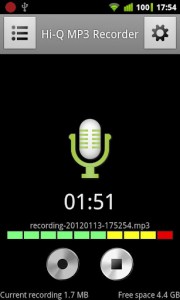 Are you looking for an app to record whatever audio you want? It may not be the prettiest app ever designed, but Hi-Q Voice Recorder gets the job done and gets it done well. It lets you record practically instantly, and is extensively customizable.
Hi-Q MP3 Voice Recorder lets you start recording practically instantly, negating the need to be constantly recording. It also lets you record at almost any bitrate you want from 32KBps to 320KBps. You can even select which microphone you want to record with! Unfortunately, the developer of Hi-Q saw fit to include an annoying popup asking you to upgrade to the paid version every time you start the app.
Hi-Q is a useful app, but it's both ugly and has an annoying popup. If you're looking for a good voice recorder, there's much better apps out there, including the free Easy Voice Recorder. However, Hi-Q's extensive customization is still superior, and is much more useful for certain purposes.
Price: Free with $3.99 Pro version

Version discovered: v1.6.12
Requires: Android 2.1+
Download size: 1.2MB
Hi-Q MP3 Voice Recorder on Play Store
[via The Verge]
Related Posts