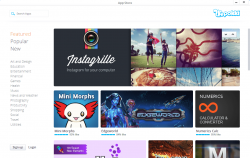 [1]Twitter for web sucks. Gmail for web only has notifications if you're running Chrome. Are you looking for a way to get a better social app experience on your Windows computer? Download Pokki. It's simultaneously an "app store" for Windows and a way to download better social apps.
The apps Pokki downloads aren't normal Windows programs. Instead, they're special Pokki-only programs. Pokki sticks itself to your task bar between your start button and your pinned apps, and lets you launch a multitude of these small apps with a single click. To be honest, this implementation isn't nearly as nice as simply creating pinnable apps would be, but it's livable.
The apps are really what you're after. Among the collection of apps available, two high-profile ones are Facebook and Gmail. They're quite nice: for Gmail, you get a redesigned interface that lets you browse, manage, and reply to emails, and it's no slouch on the animations. It's almost beautiful. The Facebook app is also quite nice: you can view your news feed, view events, view messages, and more. Unfortunately, for replying, it kicks you back into your default browser. It's still quite nice, and shows off Pokki's abilities quite well.
Pokki is full of nice looking, easy to use apps. It's a shame that the Facebook client is only half-baked, but it's still quite usable for anyone who does much more Facebook reading than Facebook writing. Overall, the apps are a little odd at times, but their simple, quick-opening interfaces make using them almost fun. If you're looking for an app store for social apps, Pokki is a fun little store, and is worth a try today.
Price: Free!
Version discovered: unknown
Supported OS: Windows
Download size: 754KB
VirusTotal malware scan results: 0/42 [2]
Portability: Requires installation
Pokki homepage [3]
[via The Verge [4]]