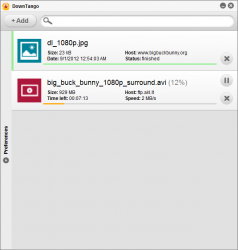 [1]How do you download files on your computer? Do you use your browser's built-in download management tool? Most people do. However, those tools generally lack configurability, and can sometimes even be slower than dedicated programs. DownTango is a tool that's just as easy to use as your browser's downloading tool, but is much more customizable.
If you're trying to watch a movie while downloading a large file, you might experience some lag as your computer attempts to optimize downloading by speeding up the wrong download. DownTango lets you set a maximum download speed, ensuring you never have to worry about using up all of your bandwidth again. It also lets you choose how many threads to create for each file, and the number of parallel downloads. Parallel downloads are especially important for anyone who downloads from file sharing sites that delete the URLs given to users after a short amount of time. If you try to download lots of files, some browsers will pause the fourth and subsequent downloads to wait for the first three. In DownTango, you're a click away from setting it to any number in the world.
DownTango also theoretically supports automatic captchas. Where exactly it supports them is anyone's guess, but it may come in handy one day. From Preferences, you can also turn on Browser integration to make Chrome, Firefox, and Internet Explorer automatically funnel all of their downloads through DownTango. It's a great little download manager for anyone who doesn't want to overcomplicate their downloading lives but wants more than their browser can offer.
Price: Free!
Version discovered: unknown
Supported OS: Windows XP+
Download size: 13.5MB
VirusTotal malware scan results: 1/41 [2]
Portability: Requires installation
[via AddictiveTips [4]]