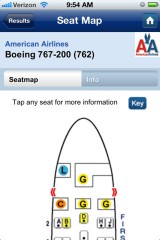 [1]If you are looking for the best way to create a pleasant experience on your next flight, then SeatGuru by TripAdvisor is the app for you. SeatGuru is a dependable source for not only airplane seating, but also in-flight amenities. The app provides access to over 700 color-coded seat maps from 100 different airlines. It also claims to feature over 45,000 passenger reviews that will assist you to make your traveling decisions.
SeatGuru also provides complete flight search and status tracking. You can can search and compare airfares from the major airline carriers, big online travel agencies, and even low-cost carriers. This way you can find not only the best seat and amenities, but for the most affordable rate. SeatGuru even goes the extra mile and provides real-time flight alerts for monitoring airplane arrival times and other relevant information. This is a tremendous option provided by the developers, as flights can be delayed or cancelled at a moment's notice. Just set the alert and a push notification will be sent to you for updates. It is worth noting, though, that you must sign-up in order to receive alerts.
I have reviewed a couple traveling apps in the past and although they have more features than SeatGuru, this app is definitely the best guide for seating. Even if that is all you are using it for, it is worth a download if you travel a lot.
Price: Free

Requires: iPhone/iPod Touch/iPad; iOS 4.3 and up

Download size: 0.5 MB
SeatGuru by TripAdvisor – Seat Maps, Flight Status Tracker, and Flight Search on iTunes [3]