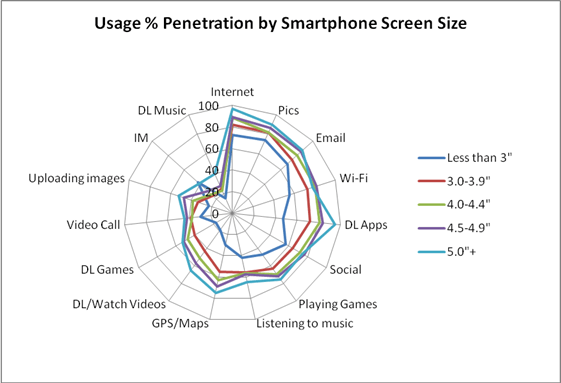 [1]
Kantar Worldpanel ComTech, a market research and analysis firm, reports the trend across the world (Kantar surveys primarily Europe but also includes other markets) — aside from the United States — is increase in marketshare for Android [2] accompanied by a decrease in marketshare for iOS [3]. While there are, without a doubt, multiple reasons behind this market trend. However, Kantar asserts a significant reason behind Android growth is the larger screens offered by Android devices.
According to Kantar, 29% of Android smartphones sold in the past three months have had a screen size of 4.5 inches or higher.  Of course some may argue consumers are purchasing larger screen devices because most, if not all, cutting edge Android tech is employing larger screen. So, to support its analysis, Kantar also points out that people with larger screens tend to use their smartphone more often and for more tasks:
It is interesting to look at the impact a larger screen size has on how consumers use their smartphones, particularly as the line between tablets and smartphones becomes more blurred. Consumers who own a smartphone with a larger screen tend to be much more engaged with their device across a whole array of functions. For example, only 19% of consumers with a screen smaller than three inches download/watch videos, compared to 65% when the screen is five inches or more.
The underlying assertion by Kantar here is consumers aren't purchasing larger screened device simply because that is all that is available; consumers are going after the larger screen Android smartphones because they like them.
Dominic Sunnebo, global consumer insight director at Kantar, further points out that because larger screen devices engage their users more than smaller screen devices, larger screen devices lead to better customer retention:
Bigger screens don't just lead to an improved consumer experience; they also play a key part in customer retention. ComTech data shows that the more engaged consumers are with their device, the more likely they are to stay loyal to an OS/brand when they upgrade.
The obvious elephant in the room here is the iPhone [4]. Since its release Apple [5] has religiously stuck to a 3.5 incher for the iPhone (although there are rumors of  a bump to 4 inches for the iPhone 5 [6]) yet iPhone utilization is extremely high and Apple has significant brand/platform loyalty. So it wouldn't be accurate to say bigger screen = increase in sales and brand loyalty. However, at least when it comes to Android, consumers seem to be moving towards the larger ones. Maybe not Galaxy Note II large, but large nonetheless.
[via TechCrunch [7], Kantar [8]]