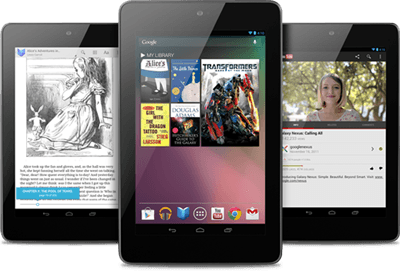 Google's extremely popular Nexus 7 tablet could be getting an upgrade in connectivity over these next weeks. A report has come out claiming ASUS is manufacturing new 3G versions of the Nexus 7.
The very powerful tablet was the first step in Google's real launch into the tablet world; Google was already part of all Android tablets, thanks to the fact that they built the damn operating system, but hadn't brought out their own tablet until the Nexus 7. With its cheap price, $199, excellent hardware, seven-inch display, and Jelly Bean operating system, it was a winner in many people's eyes, despite ASUS and Google leaving some features out to cut costs. If speculations are to be believed, Google has sold four million Nexus 7 units already.
According to the source of the above-mentioned report, the 3gG Nexus 7 tablet will not be any different in hardware terms when compared to the previous Wi-Fi edition with the only change being 3G connectivity. While a 3G radio will obviously increase the price of the Nexus 7, we believe it will still be cheaper than many other tablets.
Reasons for this new upgrade to the Nexus 7 could be due to the Kindle Fire 2 coming out soon. Seeing as the Kindle Fire is Nexus 7's biggest competition, Google is wise in looking to upgrade the Nexus 7, assuming the Fire 2 has 3G connectivity. Interestingly enough, it appears as if the Kindle Fire 2 caused ASUS to sped up the production of the 3G Nexus 7, bringing it to market earlier than expected.
[via Telegraph]
Related Posts