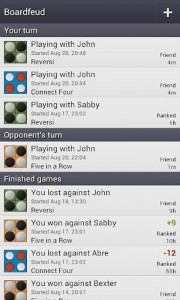 Are you a fan of multiplayer games such as Connect Four and Reversi? Boardfeud is a free multi-game, multiplayer app that lets you play not one, not two, but three different games, over the internet. You can play with friends, play for fun, or play for rankings.
Boardfeud's developer knows that when you play a game, you like to chat. That's why there's an integrated chat module that lets you chat with your opponent while you're losing winning. And if you've ever played Words with Friends, you'll know the turn-by-turn approach the game takes, in which players don't have to instantly respond to your moves. Instead, you can have multiple games that take anywhere from a few minutes to a few days to complete. (Games with random internet strangers generally take the longest.)
Boardfeud actually has some pretty nice games in it. I've recently taken to playing Reversi on my computer, and now I can play it with actual people on my phone. I can also play Connect Four, or Five In a Row. For those of you who don't know what Five in a Row is, you can play a game against your browser at Javascripter.net. It's actually quite fun.
The only thing that I absolutely hate about Boardfeud is the advertising scheme. In addition to ads at the bottom of your screen, you're also treated lovingly to full screen ads once in a while. While I understand that developers need to make money, taking up my entire screen is a surefire way to make me hit the Home button. Overall, Boardfeud is fun, and I like the play-with-strangers options available, as well as the play-with-friends ones. The ads are a bit too much, but if you can overlook that, it's a great trio of games all rolled up into one.
Price: Free!

Version discovered: v1.0
Requires: Android 2.1+
Download size: 493KB
Related Posts