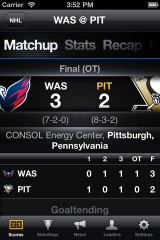 SportsMobile is all-in-one sports app for your iOS device. It provides a wealth of information on over 25 sports leagues, including the NFL, MLB, NBA, and NHL, as well as push notifications for just about anything sports-related you want to be alerted to. SportsMobile provides scores, standings, player/team news, and league leaders for each relevant sport, as well as full statistic breakdowns and player/team profiles. The developer conveniently offers options for refresh times on all scores, and allows you to share information on Twitter or Facebook.
I must say that I was mightily impressed by what ScoreMobile had to offer. I am a big sports fan, but for some reason I never was aware of this app. The developers go out of their way to continually add new features and the push alerts are probably the best I have seen. You are not only able to set news alerts for any team or player, you can also set them for such important situations such as game start/end, every run/point/goal scored, the ends of every inning/quarter/period, as well as if their is close game. The football section even has push options for turnovers and when a team gets in the red zone. The options seems limitless. I also noticed that ScoreMobile has a "My Score" section which allows you to add your fantasy team (represented as a group), so that all relevant information is easily accessible and more push alerts can be set up.
If you are a sports fan, I would suggest checking this app out to see if it is better than what you already use.
Price: Free

Requires: iPhone/iPod Touch/iPad; iOS 4.0 and up

Download size: 14.1 MB
Related Posts