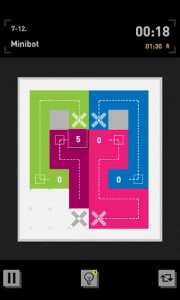 Are you looking for an awesome, addictive puzzle game? I know I'm not. I've gotten way too addicted to tiny little games on my phone, and now I–hey! Check out HueBrix! It's a tough visual space game in which you need to trace out the paths required to fill up the game board.
The paths can only be of certain lengths, defined by the numbers on the starting blocks. However, there are certain modifiers on the field that can block, redirect, lengthen, or shorten the lines you draw, so watch out and be sure to always be on the lookout!
HueBrix is probably my favorite game for now. It's both free and fun, and is both addictive and interesting. It's actually worth playing, as opposed to some other games in which you're simply addicted. HueBrix is definitely a must-try for any casual Android gamer.
Price: Free with ads

Version discovered: v1.1
Requires: Android 2.2+
Download size: 17MB
Related Posts