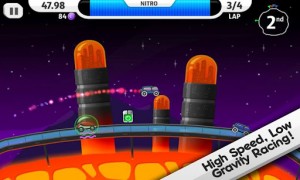 Are you a fan of racing games on your phone? Try Lunar Racer: it's a free racing app, and in it, you have to race on alien planets while managing gravity and nitro. But watch out! The powerups are dangerous, so you've got to keep an eye out.
Lunar Racer is based on a few simple concepts. Firstly, you tilt your device to tilt the car. It automatically accelerates, but you can use the regenerating nitro to launch it faster, and the gravity adjuster to pull you to the ground. Then there's the powerups: you can shoot missiles, landmines, and more at the other players, but watch out for them yourself!
Lunar Racer is a fun game. It's a little difficult to get a hang of, and it bugged out when I first played it until I wiped the app's data, but once you get going, it's fun and free to play. It's monetized by paid car upgrade points, which are also slowly collectible throughout the game.
Price: Free!

Version discovered: v1.5
Requires: Android 2.2+
Download size: 19MB
Related Posts