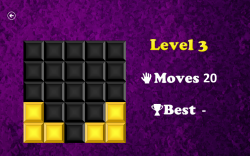 There are a set of classic games that must be repeated on every platform before it can be considered a viable platform. There's Tetris, of course, and Minesweeper. But then there's also Lights Out. It's a supposedly simple game, and with its simple logic, it's even been created in Minecraft. Now, it's available on Windows 8.
In Lights Out, the goal is simple: turn off all of the lights. To do that, you just click on them. There's of course a twist. Instead of just toggling the one light, it toggles each of its neighbors as well. That's why you need to think about your moves, and try to get it corralled into + signs.
The Windows 8 version of Lights Out, created by Aga_s, isn't a very nice version. The graphics look low-res and chunky on a low-res screen, which doesn't speak highly to their ability to look nice on a beautiful new display. The gameplay isn't nearly so nice as some other ports, such as Steven Troughton-Smith's port to Android, Windows Phone, iOS, and more. However, it's playable, and unlike Steven's, you can choose between a 4×4 board, a 5×5 board, and a 6×6 board.
Lights Out is an alright port. There are certainly better possible, but just for now, it's adequate, and is worth downloading if you like such games.
Price: Free!
Last updated: unknown
Supported OS: Windows 8
Supported processors: x86/x64/ARM
Download size: 2.6MB
Related Posts