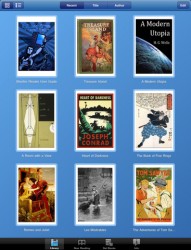 I love to read. If you see me out and about, there's either a book in my bag, or (more often) my Nook in my bag. But I like to be able to read on any device I carry around. For the iPad, I use Bluefire Reader.
Bluefire Reader is an eReader app for the iPad that specializes in ePub format. You can load books onto it through iTunes, or by using Dropbox (clicking an ePub file in Dropbox will open it in Bluefire Reader). You need to have an Adobe ID and be signed to read the eBooks with DRM protection on them. Bluefire Reader comes with a very in depth guide that will tell you how to sync your Adobe ID and (if you use third party eBook sellers) Vendor ID so that all your ePubs and PDFs will be viewable in Bluefire Reader.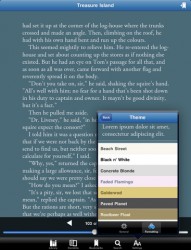 Once you have your books loaded on Bluefire Reader, the app features several different ways of displaying your collection. You can view them in a list, or as if they were sitting on a shelf in front of you with Covers view. You can also sort into recently-read, or by title or author. Removing a book from Bluefire Reader is easier than loading one on — tap the "edit" button in the upper right hand corner in your library, then just hit the X next to the book you want to delete before tapping "save."
Bluefire Reader features many different customizations to make reading personal and easy on your eyes. There are several different themes to choose from for the reading pages. The classic black on white, or (what I use) white on black, are just two of the options. When you select some text, you can create a bookmark and add your own notes to it. I do miss the Nook's "tap bookmark" feature and keep finding myself accidentally turning pages when I try to put in a bookmark. Their bookmark system could use a little work, but other than that, this is a great way to get your ePub and PDF books on your iPad.
Price: Free
Version reviewed: 1.7
Requires iOS  3.0 or later
Download size: 20.8 MB
Bluefire Reader on Apple App Store
Related Posts