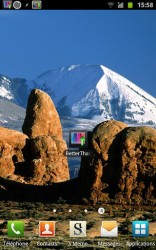 The internet is a beautiful place filled with even more beautiful photography. Channeling the Internet's amazing photographic skill into your small tablet or smartphone, however, is near impossible without BetterThanExpected Wallpapers. It's a free live wallpaper that automatically downloads and fades wallpapers from Reddit, one of the Internet's largest communities.
What is it and what does it do
BetterThanExpected Wallpapers downloads photographs from the most popular natural landscape photography section of the popular Internet hangout Reddit.com. It also lets you customize which sections it downloads photos from, including an included list of great sections such as City and Cats.
Pros
An awesome default source of wallpapers
Extensible to any subreddit
Download as many pictures as you want
For the most part smooth and fast
Cons
No guarantees on photos being high resolution
As a live wallpaper, it probably has some impact on battery life
Can only download new wallpapers once per day
Does not allow you to view original photo thread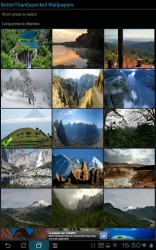 BetterThanExpected Wallpapers draws from the nearly infinite pool of pictures at Reddit, including most any photography section you can think of. Beware that the default section (and all others in its photography network) are all rather poorly named, but that the photographs on them are all of top quality. If you're looking to choose a custom section, note that you'll have to buy the inexpensive unlock key.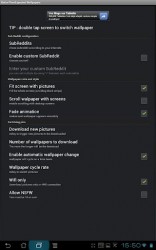 If you're looking for one particular photo you know you had just moments ago, BetterThanExpected makes it easy to find. Just launch the app from within the app drawer, and it'll show you previews of each and every photo as shown to the right. You can even tap to change to a photo instantly, or long-press a photo to remove it.
BetterThanExpected also comes with quite a few settings. Particularly of note are the ones to download more images and change image cycle rate. Since images are cycled by default every one minute, it can be nice to download more pictures than the default five.
Conclusion and download link
I love BetterThanExpected Wallpapers. To tell the truth, it's much better than I expected! It's clean, entirely automatic, and the images it downloads are nothing short of stellar. Once downloaded, the wallpaper switches relatively smoothly between each photo, and since the categories are customizable, you can always get just the type of photo you want.
Price: Free with in-app upgrade

Version reviewed: "release"
Requires: Android 2.2+
Download size: 71KB plus photos
BetterThanExpected Wallpapers on Play Store
Related Posts