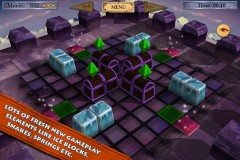 When I am looking for games, I usually look for ones that have excellent retina graphics, are quite fun to play, and provide a quality challenge. Blockado Mountain is that type of game!
What is it and what does it do
Main Functionality
Blockado Mountain is a puzzle app that involves trying to move blocks around to get a treasure chest to the exit field.
Pros
Beautiful graphics
Challenging
Undo and Redo buttons
Ability to make your own boards online
Sets star quota for number of moves
Special blocks that behave differently
Cons
Might be a little too challenging for some
Discussion
Blockado Mountain is a puzzles game that involves the movement of blocks. It contains over 60 puzzles, as a well as a handful of bonus puzzles. Blockado Mountain incorporates these block games into a puzzle searching quest game, which gives the game a little more purpose than others in the same genre. The game includes 22 achievements that can be unlocked as an added measure to beating the game.
In each puzzle, the square board is made up blocks, a single treasure chest, and an exit point. The goal is to strategically move the treasure to the exit by simply moving blocks around one after another. The game sets a quota on each board (clearly shown at the top) on how many moves it should take to get 3 stars and every other level below that. The addition of special blocks that have different effects makes a formidable puzzle even more challenging. Beware that some of stages could take a long time to solve and some users might struggle. It is worth noting that you can solve a game in order to get to the next one if need be.
One aspect of the app that I didn't check out is the puzzle scanner feature, which allows you to build your own levels and input them into the game. The tremendous graphics and the presence of unique blocks gives this feature a lot of potential and worth checking out if you purchase the game.
Conclusion and download link
Blockado Mountain is challenging and well-designed block moving game. Get the treasure to the exit in as little moves as possible!
Price: $0.99

Download size: 18.9 MB

Requires: iPhone/iPod Touch/iPad; iOS 3.2 and up

Related Posts