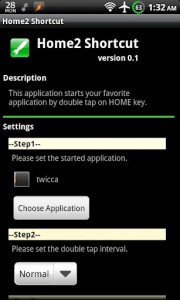 The Galaxy S III lets you open its Siri knockoff S Voice with a simple double click of the home button. However, there's no way to get this to apply to an app of your choice, and no way to bring this functionality at all to other devices. Now, with Home2 Shortcut, you don't need to. With this app, you can duplicate the function and expand it to even allow launching when you press the home quickly followed by another button.
What is it and what does it do
By setting Home2 Shortcut as your default launcher, you're allowing it to have time to calculate if you're pressing it again. While this adds delay, it also adds the cool function of setting a double-tap home shortcut, along with shortcuts for home-search,  home-menu, and home-back, and even long-press Search and long-press Camera, if your device has those buttons.
Pros
Set double-Home shortcut to any app
Set Home+other button shortcuts
Allows you to continue using your current launcher
Cons
Can be confusing to set up
Adds delay to home button push
Home2 Shortcut is, at least at first glance, a useful app. It can significantly speed up the time it takes you to open applications by setting them not as shortcuts on your desktop but instead shortcuts in your home button itself. To use it, just select open it up and select "Choose Application". It can be a voice dictation service, a calculator, or a social network–unlike Samsung's S Voice, there are not artificial restrictions.
Home2 is much more than home button shortcuts, though. You can also set it to open up shortcuts for Home plus Search, Home plus Menu, and long-hold Search. Now, you can instantly open up your most popular apps with just two single taps of your home button.
There are plenty of launchers out there, and Home2 simply adds to the list. It makes you then choose what launcher you watch to open after turning on your device or hitting the home button.
Conclusion and download link
If you're constantly launching the same few apps over and over during a day, Home2 Shortcut can definitely save you time. Whether it's useful in times other than that, however, is up for debate. Since the app adds delay to your home button, it can slowly add up over time and become more of a hassle than a solution to one.
Price: Free!

Version reviewed: v0.5
Requires: Android 1.6+
Download size: 108KB
Related Posts