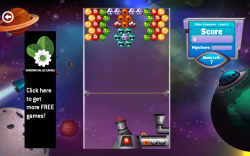 Bubble Star is a free game on the Windows Store that offers 100 levels and  "hours of fun"–and it's not just talk. It's for real. Bubble Star, which is essentially Frozen Bubble with powerups, is a great game to play for a few minutes at a time, eventually working your way up the levels.
What is it and what does it do
Much like the app Frozen Bubble for Android, Bubble Star is another variation on the age-old bubble popping game in which you need to get three in a clump. Bubble Star, however, takes it a step further, adding Bubble Star Bonuses and asteroids into the mix.
Pros
Rather than plain old Frozen Bubble, new features abound
Hex mode and bonuses make for a new twist on the game
Cons
Still just a Frozen Bubble clone with a few other features packed in
1/5 of levels locked up behind a purchasewall
Discussion
Bubble Star is a really great game. They took a great thing with Frozen Bubble, added a few features on top as sprinkles, and are now reselling it as the cool game it originally was, but better. The new hex mode is interesting, to say the least, and the animated eyeballs are great.
Of course, underneath it all, I can't help but feel Bubble Star is simply a Frozen Bubble clone. The features they've added — the hex mode and the full-star system–aren't that big of a deal, and are only a little complicated compared to the rest of the app.
Overall, Bubble Star is a fun game, and although the Frozen-Bubble-copiedness of it is pretty evident, it's still nice to see the game making it to Windows 8.
Conclusion and download link
Bubble Star is a fun little game, and if you're running Windows 8, I highly recommend it. Though Windows 8 is the advent of ads in full-screen ads, just like Android only has them on a few apps. Those that have the ads? Generally the mediocre ones. In Windows 8, there's a healthy crowd of apps that not only have ads, they have tastefully implemented ads like these ones.
Price: Free!
Supported OS: Windows 8
Download size: 12.5MB 
Related Posts