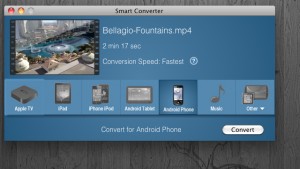 Smart Converter is a great little program that will serve as a simple way to convert your video files. This will be especially useful if you are trying to get a certain video to work on a certain device. This will also help tremendously if you want to have the video be a more convenient format so that it can easily be shared online.
What is it and what does it do
Main Functionality
Smart Converter's claim to fame is it's simplicity and speed. It is supposed to be very easy to use and convert higher-quality videos at a faster speed than any other converter.
Pros
Converts hundreds of file types
Works directly with iTunes
Includes drag and drop
Determines which part of file needs converting
Cons
Inconsistently rejects files
Doesn't handle dual audio files well
No auto-convert feature
Output sound is only stereo
Slow with HD videos
Discussion
Smart Converter is truly a fantastic piece of software. It converts files very efficiently in a manner that is unique only to this program. Smart Converter will actually analyze the file before converting it. It does this because it determines if it is the audio or video data that needs converting. Most of the time, only one area of the video file needs to be converted, so only converting that one area will significantly inscrease the speed of the conversion.
In addition, Smart Converter uses a fantastic user interface to convert your files. You can very easily just drag and drop your files, select your specifications, and you're on your way. It literally supports hundreds of different file formats. This means that you can essentailly convert any video file into any format you would like.. Once you're done converting, you can drag it directly into iTunes right from Smart Converter.
However, Smart Converter has some unfortunate drawbacks. There is both a free version and a pro version. Unfortunately, the free version will not provide batch conversion or the ability to change the output location. In addition, it can be somewhat random when rejecting files. It can be extremely picky and reject a file of a certain type, and then accept another file of the same type. In addition, Smart Converter cannot handle dual auto files. If you have a file that has two language tracks, the converted file will be playing both of the languages at the same time, making it impossible to watch the video. It would also be nice to have the program monitor a folder and automatically convert video files that are placed into the folder. But that of course, would be an extreme luxury.
Conclusion and download link
Overall, Smart Converter is an excellent application. Even the free version of this program is better than most of the converting software out there. While it does have quite a few drawbacks, they don't take away from the fact that this converter still converts almost any video successfully. I certainly recommend this app to anyone looking for an inexpensive converting solution.
Price: Free, $9.99 (Pro)
Version reviewed: 8.9
Supported OS: OS X 10.6 or later
Download size: 9mb
Related Posts