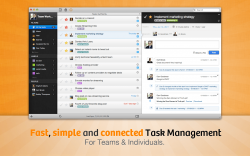 Producteev is a fantastic task-management application. This app will be perfect for those who need to work on to-dos with other people. It will make it very easy to give the people you want access to what you need to get done. It will also work seamlessly as a personal task-management application.
What is it and what does it do
Main Functionality
Producteev is designed to address your busy life by handling your to-dos in a fantastic interface. It is supposed to also allow for anybody else who has the application to be able to join in on certain lists.
Pros
Collaborative to-dos
Syncs with mobiles apps
Offline support
Separate projects by workspace
Growl support
Cons
Switching workspaces can be a hassle
No calendar view
No colored labels
Does not integrate with other services
Cannot add notes to tasks
Discussion
Producteev is a terrific app that will out perform nearly any other task-management application. Its claim to fame is that ability to collaborate with other users. This is great because it will allow you to work closely with partners and co-workers on specific projects. Its ability to sync with their mobile applications make it so you will never be away from you projects that you have to work on. In addition, it has offline support so even when you don't have an active internet connection, you will still have access to all of the information that was posted previously.
Producteev is organized into workspaces. This is a terrific way to keep multiple projects properly organized.  While this is a terrific way to stay organized, switching between workspaces is not as easy as it should be. In its current state, you must completely exit a workspace, go back into your lists, and then enter the new workspace. It would be nice to have a menu where you can easily move from one workspace to another, making your time more productive.
This app will work perfectly with the notification interface, Growl. This will allow you to automatically be notified of deadlines, reminders, assignments, repetitions, and many more features. While all of this integration is great, the app lacks the ability to view your information is calendar, with colored labels. These two aspects are pretty much standard in most task-managing services. In addition, you cannot sync any information with services like Evernote or Google Tasks. It would just be useful to be able to use multiple services depending on the situation.
Conclusion and download link
When it comes to task managers, Producteev is miles ahead of any other app. The collaboration and workspace features make this application truly amazing  If Producteev were to fix the minor annoyances,  then they could be well on their way to perfection.  Generally speaking, I would recommend this app to anyone seeking task organization for professional or personal purposes.
Price: Free
Version reviewed: 1.3.3
Supported OS: OS X 10.6 or later
Download size: 3mb
Related Posts