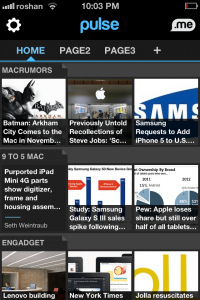 Are you crazy about certain niches like sports or technology or current affairs? Do you wake up in the morning and surf the web to read all the stories you can find? Do you want to keep updated about news at all times? Take a breath, because Pulse News is here! Now you don't have to find the News, it finds you.
What is it and what does it do
Main Functionality
Pulse News is the most popular RSS or news feed delivery app in the App Store and was, at one time, downloaded once every six seconds. Why is the app so popular? It brings all the relevant and latest news from your favorite sites under a single screen.
Pros
Beautiful user interface with a row for each website you follow
Automatically reloads new content every time you open the app or maximize from the task switcher
You can create multiple pages for different niches
Read articles are grayed to avoid repeated reading
No need to know the RSS feed URL to subscribe to a website — just search the name and Pulse finds it for you
Built-in browser for opening links in the articles
You can mark and save certain articles to read later
Facebook and Twitter options helps you to share favorite posts directly from the app
Cons
Many articles are shown only up to the "Jump Break" and you have to make use of the built-in browser to read the rest
Ads in the feed can sometimes interfere with the content
Pictures and videos take a long time to show up or, sometimes, don't even load
Discussion
As you can see, the pros of this app are far more relevant than the small flaws. I must stress that the experience of using Pulse is much more satisfactory than most of the RSS readers available. The simple, yet beautiful, design steals your heart and the efficacy in providing articles is appreciable. If you have multiple niches of interest, Pulse makes it easy for you to follow them all with multiple pages. For example, I have a page for tech news and another for sports news. Another neat feature is the built-in browser… unlike some other apps where you are asked to open links in Safari instead.
As far as I am concerned the major drawback with this app is that the articles show only up to the "Jump Break" and I have to use the browser for the rest of the article. Although the built-in browser helps a bit, I wish I could see the full article directly.
Conclusion and download link
The conclusion is crystal clear by now. If you love to read news from multiple sources, Pulse is the way to go. The experience is the best I could get after using a number of RSS readers. I recommend that you try out this app and I am sure it will become a part of your everyday life.
Price: Free
Version reviewed: 2.9.4
Requires: iPhone or iPod Touch, iOS 4.3 or later | iPad, iOS 4.0 or later
Download size: 14.2 MB
Pulse News on Apple App Store | Pulse News for iPad on Apple App Store
Related Posts