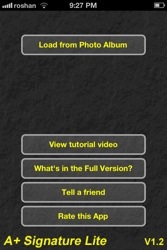 A+ Signature Lite comes from the crew of Robert & Tsibucas Inc. They define this app as:
A multi-usage annotation app which allows you to make your mark on any photo
I define this app as:
An app which helps to add a caption to your photo
What is it and what does it do
Main Functionality
Like many other apps in the App Store, the basic idea with A+ Signature Life is to help you annotate your photos. It can anything like adding a watermark to your photo, giving some funky captions to your pictures, making an e-postcard, or presenting graphs in an office meeting. One thing which came to my mind while reviewing this app was a similar feature present in the Samsung Galaxy Note. Although not as flexible as the one on the Note, A+ Signature gets the job done.
Pros
You can annotate photos with text, your own drawings, or a huge variety of clip art like arrows, chess, dices, flowers, and a lot more
Lots of customization for the text
Sharing option for Twitter, Facebook, and email
Wonderful optional tutorial
No ads despite being the lite version
Your custom drawings are saved for later use
Cons
Boring looks
Only one text annotation can be shown at a time
The arrows and shapes are hard to position correctly
No crop option available
Many of the available clip arts are ugly
Discussion
The developers have done a wonderful job in implementing their idea in this app as it does exactly what it is supposed to do.
The homescreen of this app is ugly as hell. But, once you select the picture to edit, the interface becomes more tolerable. The toolbar occupies the bottom of the screen with options for adding new photo, text, drawings, or cliparts along with sharing, settings, and help buttons.
So far so good.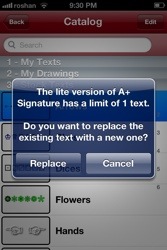 The real bummer comes when you try to add one of the plethora of cliparts. You cannot, I repeat, you cannot add a clipart and text at the same time or two ClipArts at the same time or two texts at the same time, unless you upgrade for $1.99. It is really frustrating to see all those choices that are unable to use them. On a similar note, a lot of these cliparts are awful and gives us the impression that they are just namesakes to show off the app as something it's not.
The above mentioned disappointment is covered up by some neat features — the ad-less interface, plenty of sharing options, and the wonderful tutorial you'll never use are welcome features. But, what I really like about this app is its ability to save our custom drawings. Many of you might not find it useful, but it is a dream come true for many photographers who like to watermark their photos. It is a feature unseen even in watermarking apps in the App Store. Also the texts we enter can be customized in like a thousand ways. You can adjust the size, orientation, angle, background, color, opacity, shadow, font, edge color, etc. — and even more is available with the upgrade.
Conclusion and download link
To conclude, A+ Signature Lite is good for purposes like watermarking or adding captions to your photos. But if your requirements include multiple insertions for things like e-postcard designing, you'll find this app useless unless you upgrade.
Price: Free with $1.99 upgrade
Version reviewed: 1.2
Requires iPhone, iPod Touch, and full iPad compatibility — iOS 4.0 and up
Download size: 3.6 MB
A+ Signature Lite on Apple App Store
Related Posts