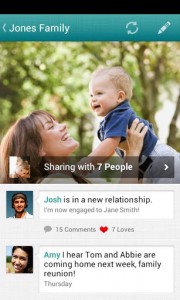 Social networking can be a great way to stay in touch with close friends and family. EveryMe can be incredibly useful if you want to only share things with certain people. EveryMe can be a lifesaver if you don't want everybody seeing things that are meant for only a few people.
What is it and what does it do
Main Functionality
EveryMe is designed to make social networking more comfortable. It provides an environment where anybody can share anything they want without hundreds of other people seeing it. It can be as private or as public as you want. EveryMe is essentially a whole new social network that is focused on allowing you to share and interact with people you really care about without risk of exposing yourself to strangers.
Pros
Can share among small or large groups of people
Completely private and secure from outside prying eyes
Have full control over who can see content
People who are not members of EveryMe can receive information via email or text
Customizable group cover photo.
Cons
Cannot share files other than images or videos
Cannot edit posts
No password protection on groups
Discussion
EveryMe takes the growing popularity of social networks and makes it more private and personalized. EveryMe revolves around groups. You can have as many people as you want in each group. This allows you to create a group for your large family, just your significant other, and every other group in between. The only downside of the groups feature is that they cannot be password protected. This means that while only members can post, anybody can see your group if you didn't set the privacy settings up correctly.
This is a terrific way to keep in touch with your friends ad family because it gives the group members complete control over what information is posted and viewed. EveryMe primarily allows you to share links, images, and videos. It is unfortunate that this app doesn't allow you to share other files like documents, PDFs, or zip files. This would be a great advantage so you can literally share anything you want with your close friends and family.
In addition, not every part of your desired group has to have an EveryMe account. If they do not wish to have an account, they can receive updates via email or text message. This is truly fantastic because it doesn't force anybody to join a service they don't want to.
There is not much customization functionality in this application. You can indeed customize the cover photo of your group, but not much beyond that. You can't edit existing posts, which can be very inconvenient if you are posting something that might change in the future.
Conclusion and download link
EveryMe is really a great idea for families that might have members who don't like existing forms of social networking. It can even be useful for couples and groups of friends who are looking for a more private way to share ideas and content. Overall, it is truly a great service and works fantastically on the Android operating system.
Price: Free
Version reviewed: 1.7.10
Requires: Android 2.2 and up
Download size: 8mb
Related Posts