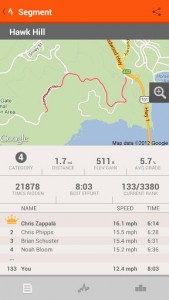 Strava Cycling is an application designed to track and share your bicycle rides. This application is great for the cyclists who aren't quire satisfied with existing applications such as Google's MyTracks. This app is perfect for people who are looking for a GPS application geared specifically towards cyclists.
What is it and what does it do
Main Functionality
The simplest function of this application is to track your bicycle rides. This is great to record and look back on previous rides and see how you have done. It is also specifically designed to share your rides with your friends and other cyclists you know.
Pros
Track every bike ride you take
View statistics and achievements
Rate yourself against other cyclists
Find popular cycling routes
Premium features to boost functionality
Cons
Occasionally loses GPS signal
Cannot correct data
Cannot access all data with phone
Discussion
Strava Cycling is a great application designed to track the progress of your bicycle fitness. This application gives unlimited ride uploads so you never have to worry about not being able to record a ride All you have to do is activate Strava at the beginning of a ride, and you're good to go. Strava Cycling will display your  distance and speed traveled, elevation gained, and calories burned. These are all fantastic pieces of information to have handy during a long ride.
Additionally, if you have a Zephyr HxM Bluetooth sensor, this application will track and display your heart rate data. The only downside of the tracking aspect is that the application will occasionally lose your GPS signal.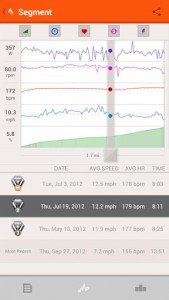 Once you have accumulated a large number of rides, you can easily see all of your past data and achievements organized properly. Strava Cycling will accumulate all of your past statistics and display them at once so you can get a strong sense for how you are progressing. Additionally, you can earn achievements for performing above average.
Strava Cycling has fantastic social integration with other Strava users. The application will actually track other users when they ride the same path as you. This means that you can compete on aspects such as time and speed. If you perform above other users, you can receive titles such as King or Queen of the Mountain for a specific area. Regardless, the application will produce a leader board for every single area you have traveled so you can see how you have been stacking up against other users., This feature can also be great when you are trying to find new places to ride because it will show you where other users have been riding that are located near you.
If you decide to go premium, you will enjoy cool features to add to your experience. You will get a leader board that can be filtered by age and weight so you can see how people perform that are physically similar to you. You also get a Power Zone Analysis which will monitor your power output and focus on your watts of energy. There is also a Suffer Score that will actually determine how hard you have been working or 'suffering'.
A really cool premium feature is that this application will track how you do each time you come to a tricky part of the road. For example, if you frequently travel on a path that has a steep hill, Strava will show you how you perform on that hill each time you climb it. This will allow you to see if you are truly progressing in your skills.
Conclusion and download link
Overall, this application is truly fantastic. It offers a significantly greater amount of features than other similar tracking apps. What is great is that it offers optional features for an optional fee. This means you don't have to pay for what you don't want. I think this a great way to develop an application and leads to a much higher user satisfaction rate. If you are an athlete that enjoys cycling, then this application is a must have.
Price: Free
Version reviewed: 2.2.0
Requires: Android 2.2 and up
Download size: 5mb
Related Posts